By
Arizona Daily Wildcat February 25, 1997

Lance Hill, civil engineering senior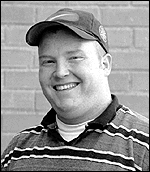 ASA task force 1995-present; Senate aide

1995-96

Civil engineering club 1996-97; president of Associated Students of Eastern Arizona College 1994-95; freshman class vice president at EAC 1993-94.

Hill said he really likes to do things for the students. He said a lot of student apathy stems from people not being involved and not caring, and the reason they don't care is because ASUA is so unappealing to them.

Hill said he wants to do things that he knows he can accomplish. He said he is not very political and likes to accomplish things on a friendly basis.

Hill said he wants to extend the Escort Service Safe Ride program to service the bars on Fourth Avenue on Friday and Saturday nights. He said he thinks this will alleviate a lot of the drunk driving that occurs when students traveling back and forth.

He also said he wants to improve safety at night, such as adding lights on campus.

Hill said he also wants to move the Speaker's Corner farther east so students can better enjoy the UA Mall.

Hill said he would like to get tuition as low as possible and improve transportation as best as possible, but those issues are very tough to deal with. He said that as a student body president, there is no way to get tuition lowered because that is a board of regents issue. However, he said he would give all the input he possibly could.

Hill said transportation is also something that may be over the student body president's head, but he said he would address it. Hill said a lot of students run on the issue of better parking, but it has never been improved in the past, and he does not want to make any promises he can't keep.

Hill said the Student Union needs a lot of work and he will try every avenue possible to try to get that done without a hassle to the student body and the students who work there.