By
Arizona Daily Wildcat February 25, 1997

Brook Rosenbaum, junior majoring in political science and French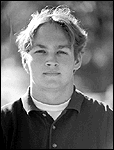 Federal Relations director 1995-96; assistant Federal Relations director 1994-95

Chain gang honorary 1996-97;Sophomore Honorary 1995-96; president of Primus Freshman Honorary 1994-95

Rosenbaum said he decided to run while in France last semester because it struck him how much he benefited from the university. He said the best way for him to give back was to help in student government.

Rosenbaum also said he is concerned with a number of issues facing this campus. He said student government should make sure the time that students spend here is passed as comfortably as possible and that students' concerns are addressed. These issues revolve around academics, financial situations and quality of life, he said.

Rosenbaum said the atmosphere of the university needs to be improved both academically and financially, and the quality of life also needs to be improved.

Academically, Rosenbaum said he wants to publish faculty evaluations and unify the existing tutoring services so students can prepare themselves before they step into the classroom.

Financially, Rosenbaum said that with the Arizona Students' Association, ASUA can serve as an effective voice to lobby the state Legislature. He said the student body needs to make sure government officials know that students are concerned about financial aid. He said students also need to create a stronger voice in the administration.

For quality of life, Rosenbaum said ASUA should work with the Department of Student Programs and campus resource centers. He said student government needs to provide services that students can use, which will create more interest among the student body in the things that ASUA does.

Rosenbaum said he thinks ASUA should work with the services that exist and make sure they are instituted for the benefit of the students.

Rosenbaum said financial aid is one of the keys to lower tuition. He said the university needs to increase awareness of public transportation and that the university also needs to provide access to satellite parking and publicize public transportation.

Rosenbaum also said he thinks the university should build a new Student Union because it will help revitalize the campus.