By Jennifer M. Fitzenberger
Arizona Daily Wildcat February 26, 1997

Web site trying to 'click' with students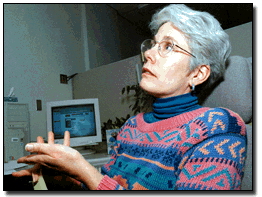 Karen C. Tully
Arizona Daily Wildcat

UA systems support analyst Karen Warren explains the UA's computing programs similar to the College Club.


A California-based World Wide Web site is trying to make it easier for UA students to point and click their way to a superhighway of communication.

Learning the system, however, may deter some students from using it.

The College Club System allows users to access electronic mail, group information and create a resume through a single site on the Web, said Everett Jacobs, director of national marketing for College Club. The program has been available to University of A rizona students since August.

"College Club is a community concept," Jacobs said. "It allows people to enhance and expand communication methods so we can communicate more effectively."

He said College Club's groupware function enables someone to send a single message to everyone in a group.

"Instead of a club sending a bunch of messages to everyone in the group, it is easier just to send one message," Jacobs said. "It is easier to point and click, sending group mail just as easily as personal mail."

More than 500 groups around the nation are taking advantage of the groupware function, he said.

Individuals can open an account with College Club's e-mail feature, C! Mail, which allows users to exchange messages with any other system, Jacobs said.

Jacobs said the site features a resume and letter-building resource for students seeking employment, a classified section where students can buy and sell various items and a "factory" that creates personal Web pages for students and faculty.

Jacobs said College Club started as a telephone access digital voice system that began at the University of California San Diego as a class project.

"The system grew, and students in San Diego were soon able to use it," Jacobs said. "It was then on the World Wide Web as a site in 1993."

UA students and faculty who have checked out College Club have given the system mixed reviews.

"I wouldn't use this program that often," said Cybill Rollan, a management information systems senior and computer lab monitor for the Center for Computing and Information Technology. "I would build a resume and home page on my own - it's not that hard."

Although Rollan said she did not find the system useful, she said students could benefit by perusing it.

Brad Eaton, a regional development senior and CCIT lab monitor, said he would use the College Club site if he was sitting in front of the computer being "nerdy."

"I think people are not going to be keyed into it very much, at least not at first," he said. "But I believe it is a cool Web site and think people will dig it."

Eaton said he found the site easy to "surf around."

"The best feature is its easy layout and user-friendly page," he said. "The worst feature is that people aren't aware of it and probably won't use the e-mail system set up on the page."

Eaton said he would recommend students use the university's e-mail system.

"People I've talked with on campus and in the computer labs are barely getting comfortable with the normal e-mail system, and seem to separate that from Netscape entirely," he said.

Karen Warren, a UA systems support analyst, said that Listserv is the UA's version of groupware.

"Although it is not based through the Web, you can subscribe to a list after which you will receive all of the group's messages," she said.

Warren said a few hundred Listserv groups exist at the UA.

She said personal home pages can be created through an e-mail account on the u.arizona.edu system and student organizations' home pages can be accessed through UA Info.

Linda Drew, CCIT computing manager, said computer users at the UA can access Caucus, a new Web-based way to share information with groups of people.

She said a number of departments, including English and chemistry, have been integrating Caucus into their curriculums.

"After you register as a new user by pulling up caucus.arizona.edu, you can join in on any conferences," Drew said.