By John Brown
Arizona Daily Wildcat March 3, 1997

Pre-Law honorary argues alleged rape case at mock trial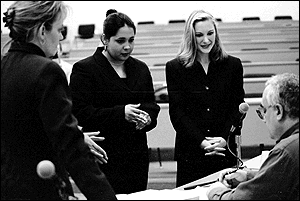 Karen C. Tully
Arizona Daily Wildcat

From left: attorneys Jill Trumbull-Harris, Bibi Stephens and Danielle DeMailo discuss a sexual assault case with acting judge Robert Fortuno at a mock trial Friday night at the College of Law. Members and pledges of the Phi Alpha Delta pre-law fraternity acted as attorneys and jurors in the mock trial.


A man accused of raping a pregnant women was acquitted Friday by a jury siding with the defense's claim that the alleged assault was consensual intercourse.

A panel of seven men and five women, which deliberated for an unprecedented five minutes, found Michael Miller, 23, innocent on two counts of aggravated sexual assault.

The decision may have come so quickly because the jurors were all pre-law students participating in a mock trial at the University of Arizona College of Law.

Members of the national pre-law fraternity, Phi Alpha Delta, were assigned as attorneys while pledges participated as jurors, said Julie Barton, a member of Phi Alpha Delta.

Members Ariane Mele and Jill Trumbull-Harris, the prosecutors in the case, argued that around 11 p.m. Jan. 9, the fictitious defendant waited in an alley by the woman's place of work, then held a knife to her throat and forced her into his car. He alleged ly drove for several hours, beating and threatening to kill her, before he allegedly raped her twice in an six-hour period.

The defense attorneys claimed that their client had established a relationship with the waitress as a regular to the restaurant and was waiting in the alley because the married women did not want fellow employees see her get into his car.

The defense attorneys, played by Bibi Stephens and Danielle DeMailo, attributed the bruises and marks on her arm, neck and shoulder as a result of her husband's anger when she returned home almost two hours late from work.

During closing arguments, Stephens told the jury that the woman's refusal to submit evidence for the case and the fact that she did not seek help from her husband after she was allegedly raped were clear indicators that her client was innocent. She said t hat the defendant's sperm samples retrieved from the woman proved intercourse occurred but not rape.

But Trumbull-Harris said the defendant had no witnesses to the claim that he and the woman had a conversation at the restaurant earlier that night, or heard him honk his horn to alert her that he was in the alley.

Since the prosecution failed to convince the jury beyond a reasonable doubt that the defendant had raped their client, jurors found him not guilty.

"The case could have gone either way," said juror Paul Hayden, a history junior and Phi Alpha Delta's publicity chair. "In a lot of rape cases it's his word against hers, giving the prosecution a disadvantage."

Channing Neary, a communication sophomore, said the fact that the woman had no bruises around her inner legs and walked home rather than calling for help were two important reasons she voted not guilty.

Robert Fortuno, a real estate and business attorney in Tucson and an alumnus of the College of Law, presided as judge for the case and said he believes the exercise was a good experience for the students.

Mele, a political science and communication senior, said that while working in the County Attorney's Office's sex crime division, she found that cases like the one Friday are very common.

"People are more willing to believe that the women is a tramp rather than the man a rapist because they don't want to believe that violent crimes like this happen in our society and could possibly happen to them."

Joel Tobin, a psychology senior and Phi Alpha Delta's administrative vice president, who played the woman's husband during the trial, said the fraternity is in the process of establishing a mock trial contest with Arizona State and Northern Arizona unive rsities.