By Doug Levy
Arizona Daily Wildcat March 6, 1997

Cibo Matto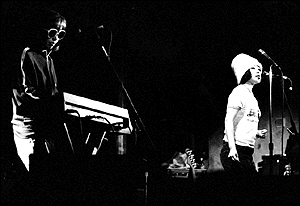 Tanith L. Balaban
Arizona Daily Wildcat

Yuka Honda and Miho Hatori of Cibo Matto at Gibson's Monday night.


I was waiting for this one. The band with the most promise for a great live show, Cibo Matto, was stopping by, just a hip-hop, skip and a jump away in friendly Tempe. I had envisioned many things when conjuring up the show in my mind, and although I got a bit of what I expected, there was so much more I couldn't have anticipated that I walked away happy, surprised, and slightly confused. That's a good thing.

I missed half of Pulsars' set (the opening act) because I was eating pizza down the block. I'd heard their tape, and wasn't in any hurry to see them. As it turned out, I was suddenly wishing I had stayed for another slice. These two annoyingly "alternative" dudes had a television on stage with video footage rolling, and it actually stole the show right away from them. And it wasn't interesting video, either. Sometimes we have to suffer before we get what we want.

Yuka Honda, sampler and keyboard queen of Cibo Matto, was the first to appear on stage, dressed in her funky Izod gear and ridiculously large shades. Miho Hatori soon arived, and casually took her place at the mic. Just one look at her sparkling fluffy cap and teddy-bear t-shirt and the stage was alive. Responding to a shout from the crowd, she quietly smirked, "Yeah, I know my chicken."

I wondered how much they could spice up the show with Yuka trapped behind her equipment and Miho alone center-stage, and indeed, the first two songs did have a repressed feel. The charming "Spoon" led off the set, but where was the jumping? Where was the shouting? Where were the women who spent so much time with the Beastie Boys and the Jon Spencer Blues Explosion?

I soon found out. The third song brought two smiles to my face: the first when their touring drummer and bassist strutted on stage, and I saw with a jolt that the man on the axe was none other than Sean Lennon (also sporting the Izod threads). The second was when Miho pulled down the mic and broke out bounding into the funky groove of "BBQ," showing that she could indeed give Mike D. a run for his money any day.

Once I got over the bizarre John and Yoko comparison that kept running through my head, things really picked up, although not in a way I would have imagined. When "Know Your Chicken" was finally played it wasn't like any version I'd ever heard before. It was such a thrashy hardcore jumble that a (gasp!) mosh pit began in front of the stage.

And that seemed to be the idea behind the evening - you may know the band, you may know the songs, but you're not going to hear anything you've ever heard tonight, kiddo. Actually, out of the 13 songs they played, a full half of the set was unreleased material and improvisational jams. "Le Pain Perdu" was the only track to receive an album-like recital, while the rest were as ripped up and thrashed around as the Chicken song had been. Miho was transformed from a sweet-voiced innocent angel to a hip-hop maestro storming the stage, then to a demonic ranter inspiring the audience to madness (well, almost, anyway.)

It seems like the ladies of Cibo Matto have gotten deeper into the experimental side of hip-hop/rock that they explored with their side-project Butter 08, and I won't be surprised to hear that their next release has the same kind of meandering, eclectic appeal. While there were songs smooth and gentle enough to sing a baby to sleep, they would be instantly followed by a shout-laced rap. There was even (to my amazement) a re-working of "Beef-Jerky" that rested on a Black Sabbath-esque bass-line, and another song that even veered into the realm of Slayer-like riffs (with John Lennon's son pounding them out, no less). Then there was the romping "I Got Cheeba" jam that worked up the crowd, and the second encore which started out thrashy, took on a hip-hop beat and ended up wandering away into the realm of ambient music.

Cibo Matto proved to be the exact opposite of the painfully staged Pulsars, giving the audience hardly anything they expected: shocking them, making them laugh, making them dance and jump, and afterwards, sending them off with a smile (while possibly scratching their heads). At the end of the night I strolled to the stage and leaned towards Mr. Lennon. "I just want to shake your hand," I said. And it wasn't only because of the father he so strikingly resembled; it was also to thank him for taking part in such a memorable show.