By Jon Roig
Arizona Daily Wildcat March 6, 1997

Welcome to Bargain Town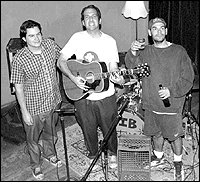 Robert Henry Becker
Arizona Daily Wildcat

Tucson's local band, Bargain Town, played to a Tuesday night crowd at The Empire. Armed with three chords and a rock dream, they are, bassist Peter Grodach, singer Chris Morrison and drummer Ib Contessa.


This just hasn't been Bargain Town's night. Singer Chris Morrison just had his house broken into. "They took all my guitars, except my Rickenbacker," he complains. "The stereo, the 4-track I recorded my last CD on . . . I wish I could've brought you a copy of my new tape, but I don't have a stereo to copy it on . . ."

Ib Contessa, the drummer, just had a root canal this afternoon. Two beers later, he's a little wobbly but ready to rock. Only Peter Grodach, ever the stoic bassist, seems to have escaped the spell of bad luck.

"We're obligated to rock," he says. Why else would we find ourselves down at the deserted Empire lounge on a Tuesday night?

A self-described "bitter old man" at 31, Chris Morrison makes a perfect spokesman for the older side of "Generation X." After many years in Tucson's meager music scene, he's lost any delusions of grandeur about being a rock star.

"This is the shit I've been doing over the last 10 or 12 years," says Morrison as he hands me two of his older albums, records that have been gathering dust in his closet since their creation. "3 Songs 6 Guys," a 1990 recording by The Lonely Trojans, is an early incarnation of the band that went on to become The Weird Lovemakers. Morrison's 1988 release "Pieces" under the moniker "The Sloppy Guitarist" is a little closer to his latest work with Bargain Town - low-fi, but still poppy and intelligent. It's the talent, not the technology, that built Bargain Town, which causes some listeners to draw somewhat-unwelcome comparisons to other bands mining the same lo-fi rock vein.

"People listen to that and they go 'Oh, it's Guided By Voices,'" says Morrisson of the 1995 Bargain Town CD release. "But they don't know that this was recorded before I'd even heard of GBV - they're the greatest band in the world, but this is the last frontier for musicians. Not everybody can get signed anymore."

Both Morrison and Robert Pollard, GBV's singer, are educators, although Morrison is less a teacher and more a cop who watches developmentally disabled kids. They also share similar musical influences: "I like rock like Bob Seeger, NRBQ, the Beatles, the Who - the Who's my favorite band," says Morrison of his inspirations. "I love the Replacements. I love bands that evolve. I loved Fugazi . . . but what happened? They just didn't go anywhere with it. The Jam, now there's a band that evolved. They started playing punk rock, but they were a pop band. That's what we're trying to do . . . "

"I think we're the best rock band in this fuckin' state, hands down," Morrison explains. Can they rock harder than the Weird Lovemakers? "The Weird Lovemakers are a punk band. Even though I love punk rock, I'm not interested in screaming anymore. I'm 31 and I'm not a punk rocker - I never was a punk rocker. I mean, I played punk rock but didn't pierce my ears, or pierce my dick or get tattoos. I've just never been punk rock."

Contessa's favorite band is Styx - seriously; he even flew to Chicago to see them play on their reunion tour. Peter Grodach is into metal, although he remains unenthusiastic about Dio's upcoming visit. His contribution to the set, a hard-rocking number called "Damien #666," is totally incomprehensible. But that's not always a bad thing, and he doesn't really try to make any sense out of it: "We were just messing around and that song came out." An on-again/off-again gig with his brother in The Sasabe Giants is his other connection to the nebulous world of Tucson indie rock.

"Me and Peter [the bassist] have known each other for a long time," explains Morrison. "I used to drum in the Sasabes years ago, once in a while when they needed a fill-in."

It's a small, close-knit scene. These guys really aren't trying to get signed and sell out - they play because they like it. Spend a few nights at The Airport Lounge and you know all the scenesters, at least by sight. Even though they stole my lighter, they're nice people, almost a family - and, everybody knows everybody; they probably all played in a band together at some point. Someone who they identify as only as Rugboy, a local ukulele player, wanders past our table. Morrison's girlfriend, Rena, plays with Flavor Cage.

But don't mistake "close-knit" for "exclusive" - these guys would like nothing more than for you to hear and enjoy the earnest pop confections of Bargain Town. In fact, they're playing March 20th with Rugboy and April 26 with Flavor Cage, both at the Airport Lounge. Mark your social calendars...