By Joel Flom
Arizona Daily Wildcat March 10, 1997

UA takes 2 of 3 from UCLA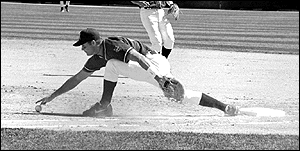 Brian D. Rothschild
Arizona Daily Wildcat

Infielder Kenny Corley (33) stretches off of first base while scrambling for the ball. Corley earned the only RBI during yesterday's loss against the UCLA Bruins.


The Arizona baseball team crashed back to earth yesterday after flying high all weekend as top-ranked UCLA avoided a series sweep and handed Arizona its first conference loss this season in convincing fashion, 12-1 yesterday at Sancet Field.

The Wildcats had upset the Bruins by scores of 4-2 and 13-3 on Friday and Saturday respectively.

UCLA received a stellar outing from junior left-hander Jim Parque and a pair of grand slams to cruise to the win. The Bruins improved to 21-5-1 overall and 3-3 in the Pacific 10 Conference Southern Division, while Arizona fell to 19-10 and 5-1 in the Six-Pac.

Sophomore James Johnson (2-4) took the loss for the Wildcats, while Parque (6-0) had little trouble with the UA bats. Parque did not allow a hit until junior second baseman Erik Mattern connected on a full count, two-out single in the seventh inning. Parque went seven innings, allowing only the base hit by Mattern and struck-out eight, while walking seven.

"Parque is one of the best pitchers in America," UA head coach Jerry Stitt said. "He is just a really good pitcher. He spots his fastball and his breaking pitch and he stays ahead of the hitters and we didn't do that very well today."

The Wildcats finished with only two hits in the game. The second came in the bottom of the ninth when sophomore third baseman Omar Moraga hit a two-out ground rule double against Bruin reliever Jack Meyer.

Junior center-fielder Diego Rico saw his 21-game hitting streak end, after finishing the day 0-for-4.

"I'm glad that we won two," Stitt said. "We played pretty well for two games and six innings of the third."

In Saturday afternoon's game, Arizona collected 18 hits en route to a 13-3 win.

The Wildcats got a strong outing from sophomore left-hander Rob Shabansky, who improved to 6-1 on the season. Shabansky went seven innings, allowing three runs on seven hits and three walks. He struck-out three.

Zamora (1-1) took the loss for the Bruins.

Arizona capped the game in the seventh inning when Mattern and junior shortstop Jake Thrower hit back-to-back home runs.

On Friday, sophomore right-hander Darrell Hussman pitched a complete game as the Wildcats prevailed, 4-2.