By Kevin Clerici
Arizona Daily Wildcat March 10, 1997

Women earn 1st-ever spot in NCAAs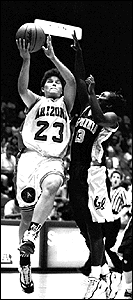 Adam F. Jarrold
Arizona Daily Wildcat

UA freshman guard Felecity Willis drives against California's Sherrise Smith on Saturday at McKale Center. The Wildcats beat the Golden Bears, 87-64.


When Arizona popped on to the television screen as the No. 7 seed in the West Region, junior Adia Barnes demanded a team picture. And after the first one was taken, she asked for another, then another, then another, because she was still in shock during t he first two.

"I am so excited, I can't even talk," she said. "We're in, we're in, that just feels so good to say."

Arizona will play Western Kentucky in its opening round game of the NCAA Tournament on Friday in Athens, Ga. on the campus of the University of Georgia - last year's national runner-up.

"I would have taken any seed," said UA head coach Joan Bonvicini about the school's first-ever berth. "To get a seven, that shows a great deal of respect for our program."

Unlike the men's tournament, the women's first and second round sites are determined by the top four seeds in each regional, which host their own brackets. That means if Arizona wins they will play the host school, No. 2-seed Georgia if it defeats Eastern Kentucky.

"All we wanted was the opportunity to play," UA assistant coach Tracy Waites said. "We are ready, we are pumped."

Last season, Arizona was denied an NCAA bid and ESPN was at McKale to show the country the team's reaction. Last night, the players huddled together in the locker room away from the roughly 300 people who watched on the big screens in McKale Center during an awards banquet.

"When I saw Washington come up, I didn't want the same thing to happen to us all over again," said senior Jacque Barrington, who saw Arizona overlooked for the Huskies last March. "I don't have any family in Georgia, but here we come."

Athletic Director Jim Livengood, who was busy being congratulated, was all smiles.

"A four (the men's seed) and a seven seed, that's great," he said. "It shows a lot of respect for our university. It's only going to get better from here, too."

Arizona defeated Western Kentucky en route to the women's NIT title last season, but Bonvicini said the Hilltoppers are a much improved team.

"They are a big team, very wide and big. But, it's about who can handle the distractions," she said. "If you can understand the intensity and emotions and play through it, you have a chance."