By Carlos Arias
Arizona Daily Wildcat March 10, 1997

UA caps undefeated league season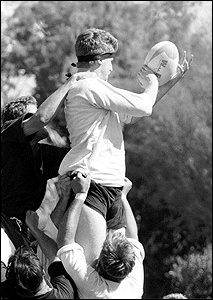 Ryan A. Mihalyi
Arizona Daily Wildcat

UA senior rugby player Paul Gause grabs a pass while a defender grabs his shorts during Sunday's men's club match against Arizona State at Estevan Park. The Wildcats beat the Sun Devils, 33-7.


The Arizona men's club rugby team defeated Arizona State, 33-7 yesterday to win the regular season title in the Southern California Collegiate Rugby Conference.

The Wildcats scored 14 points in the last fifteen minutes of the game to close out the win. With the victory the Wildcats finished their conference season 7-0.

Team captain Tom Schultzen scored two trys and missed one conversion kick. The Sun Devils scored only one try in the first half and then things went downhill from there. Their coach did not even come to the game for unknown reasons.

"We had lots of injured players and our coach kind of quit on us for this game. He did not even come," ASU fullback Jason McCarthy said.

Wildcat head coach David Sitton said he was aware of the ASU coach's decision.

"I'm not going to say anything except that I have known the man for many years and he is a good rugby man," Sitton said.

Arizona is now ready for the playoffs, where Sitton said they could face Colorado or Rice in the first round.

This weekend Arizona will travel for a one-game invitational against California.

"Every time the team plays against top level teams like California, they learned and try harder," Sitton said. "You can think or talk about top level competition (but) you have to play to know what it is like."