By Sam Spiller
Arizona Daily Wildcat March 10, 1997

Softball opens conference season with 4 victories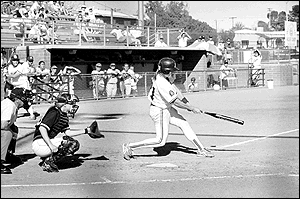 Karen C. Tully
Arizona Daily Wildcat

UA sophomore shortstop Michelle Churnock takes a cut during yesterday's game with Stanford.


The No. 1-ranked Arizona softball team had a 38-game winning streak coming into weekend action at Hillenbrand Stadium. And, like the famous pink bunny, it's still going thanks to doubleheader victories over Stanford and No. 12 California.

In yesterday's games against Stanford (11-14 overall, 1-7 in the Pacific 10 Conference), the Wildcats won in more convincing fashion than they did against Cal. They beat the Cardinal, 8-2 and 6-0.

"I think we're back to square one right now because we still have to be hungry and we still have to want to beat people by more runs," UA center fielder Alison Johnson said. "I think everybody knows we can do a lot better."

Stanford is a team that many feel will be competitive in the next few years.

"They're a team that has improved so much since my freshman year," Johnson said. "This year they have a new coach and their offense has stepped it up a notch. They were playing right with us for a long time."

Pitcher Nancy Evans threw a two-hitter against the Cardinal in the second game. Evans was the Pac-10 Player of the Week last week after a strong performance at the Hillenbrand Invitational.

"It was an interesting weekend," UA head coach Mike Candrea said. "Yesterday (Saturday), obviously I was a little disappointed with our effort and our enthusiasm and our intensity. I thought today we came out and were a little bit better."

The Wildcats (25-0 overall, 4-0 in conference) narrowly avoided losing the first of their games against the Bears (10-9 overall, 2-4 in conference) on Saturday. If it wasn't for a three-run rally in the sixth inning, the Wildcats may have found themselves nursing a loss for the first time in almost a year.

Instead, the Wildcats managed to squeak out a 4-3 win.

Evans (13-0) was able to put away the Bears in the second game, scattering five hits and allowing one run. Arizona won, 4-1.