By D. Shayne Christie
Arizona Daily Wildcat March 14, 1997

Pacheco takes Mo. position, sources say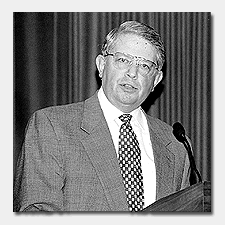 UA President Manuel Pacheco


UA President Manuel Pacheco has accepted an offer to become president of the University of Missouri school system, The Associated Press has reported.

"He accepted it and it's a done deal," a source familiar with the negotiations told the AP on condition of anonymity.

The Missouri Board of Curators took a final vote at 5 p.m. CST Wednesday, but will not announce its decision until 10 a.m. CST today, said Malaika Horne, president of the board.

Horne said she was not willing to discuss the Associated Press reports.

R. William Funk, managing director for Korn-Ferry, the search firm that found candidates for the University of Missouri system, said the AP reports were "a little ahead" of schedule but that Pacheco's strengths as a candidate are "quite compelling."

Funk said the search resulted in about 100 candidates, of which two now remain.

Still in the running are Pacheco and Dr. Donald Lindberg, who has been director of the federally run National Library of Medicine in Bethesda, Md. since 1984.

The Missouri system is looking for a successor to George Russell, who retired in August and made $189,000 a year. The next president is expected to be paid in the same range, plus benefits including a car, an expense account and the university-owned house near the Columbia campus football stadium, the AP reported.

Pacheco has served as president of the University of Arizona since 1991. He previously served as president of the University of Houston's downtown campus from 1988 to 1991 and as president of Laredo State University in Texas from 1984 to 1988.

Pacheco announced his resignation from the UA in January. His contract runs through Dec. 31, but the Arizona Board of Regents has said he can leave earlier.

Lindberg also worked as a professor of pathology at the University of Missouri at Columbia from 1963 to 1984. The AP reported yesterday that Lindberg was initially dropped as a semi-finalist but was reconsidered when another candidate dropped out.

When asked yesterday if he had been contacted by the curators, Lindberg said, "I would recommend that you be patient and wait until tomorrow."

Sharon Kha, assistant to the UA president, said that two members of the board, Hugh Stephenson and John Mathis, met with Pacheco last week while visiting the UA.

Kha said she did not know what was discussed in those meetings.

The AP reported yesterday that Pacheco and his wife, Karen, visited Columbia last weekend on a trip that included a look at the president's house.

No representatives of the Missouri system paid a visit to the other finalist, Dr. Donald Lindberg, the AP also reported.

Horne said the visit to the UA was to gather information about Pacheco, but she would not say what information was being sought or if it weighed into the final decision.

"Let me say this - when a candidate comes from a campus all kinds of information surfaces. We wanted to track that down," Horne said.