By Joel Flom
Arizona Daily Wildcat March 28, 1997

Baseball smacked by Stanford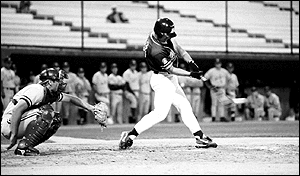 Tanith L. Balaban
Arizona Daily Wildcat

UA junior first baseman Kenny Corley (33) connects with a pitch from Stanford's Kyle Peterson last night at Sancet Field. The fourth-ranked Cardinal won the series opener 10-3. The two teams will meet again tonight at 7 and tomorrow afternoon.


Stanford proved why it is in first place in the Pacific 10 Conference Southern Division and ranked fourth in the nation last night at Sancet Field.

The Cardinal (22-7, 9-1 in the Six-Pac) got a strong pitching performance from junior right-hander Kyle Peterson (5-1) and a balanced hitting attack in the10-3 win over the Wildcats (24-15, 7-6), 10-3. UA sophomore right-hander Darrell Hussman (3-4) took the loss.

"They are a really, really good team," Arizona head coach Jerry Stitt said. "They deserve to be in the top five in the country."

Using an impressive fastball and a baffling change-up, Peterson had his way with the Arizona hitters. Peterson went seven innings, giving up six hits and three runs while striking out eight.

"Peterson is going to be a first-round draft pick," Stitt said. "He is as good as there is in college baseball."

Peterson is 5-0 against the Wildcats and entered the contest with a 2.45 ERA.

Stanford scored early and often against Hussman.

Second baseman Joe Kilburg led the game off with a single and then scored on center fielder Jody Gerut's single to right field. Right fielder Edmund Muth, who had reached base on a walk after Kilburg, scored on a slow grounder hit by catcher Jon Schaffer.

Stanford posted three more runs in the third and two in the fourth, while the Wildcats did not get on the board until the third when sophomore Greg Clark collected the first hit off Peterson, moved to second on junior Erik Mattern's walk and then scored on junior shortstop Jake Thrower's single to left.

With one out in the fifth, Cardinal third baseman Josh Hochgesang hit a two-run homer off Hussman. Hussman was pulled and in came sophomore left-hander Scott Wood, who provided the only highlight for the Wildcats with his relief pitching. Wood went four innings, holding Stanford to just one run, while allowing four hits, two walks and striking out three.

"Wood did a good job," Stitt said. "He came in and threw strikes and had a little bit of an off-speed pitch tonight that he has been working on."

A statistic that sticks out for Peterson is the three walks he gave up. Known for his control, Peterson had only walked 10 batters in 59 2/3 innings preceeding last night. Peterson also hit three Arizona batters with pitches. He had only hit two batters this season.

Stanford and Arizona play tonight at 7 at Sancet Field in the second game of the three-game series.

UA sophomore James Johnson (2-4) is expected to start. UA sophomore Rob Shabansky (6-3) will pitch the series finale, which is tomorrow at 1 p.m.