By Sam Spiller
Arizona Daily Wildcat March 28, 1997

No. 1 UA, No. 3 UCLA renew softball's biggest rivalry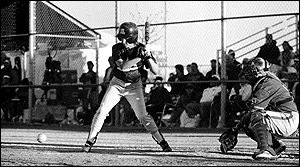 Adam F. Jarrold
Arizona Daily Wildcat

UA sophomore infielder Michelle Churnock watches a pitch go by in the dirt at the Hillenbrand Invitational earlier this season. The Wildcats face UCLA tomorrow.


Every superhero has an arch-enemy.

The No. 1 ranked Arizona softball team will face its nemesis tomorrow when it heads to Los Angeles to face the No. 3 UCLA Bruins.

Since 1991, Arizona has won four national championships, but two got away, both at the hands of UCLA. The sting of the 1995 loss was capped off when UCLA's star pitcher, a mid-season recruit from Australia, left school and returned home. Rumors later sur faced that she may have never attended school.

Hence, the birth of what most consider the nation's most heated rivalry.

This meeting of the Wildcats (30-1 overall, 4-0 in conference) and the Bruins (26-4 overall, 7-1 in conference) will be a continuation of Pacific 10 Conference play for Arizona after taking last weekend to play in the PONY Invitational in Fullerton, Calif . Arizona suffered its first loss in 47 games at the PONY - a 3-0 loss to Oregon State.

"The PONY is a very difficult tournament," UA head coach Mike Candrea said. "It's never on time so you have to wait to play. Everyone has family there. It's like a test."

The NCAA does not keep records of winning streaks that pass from one season to the next, but many have speculated that it may be the longest streak in national history.

"I think it's a wake-up call," Candrea said. "I don't think you need a loss to light a fire, but it does give you a sense of urgency."

UCLA will be happy to hand the Wildcats their second and third losses of the season, and of all the teams Arizona has played this season the Bruins have the best chance of doing so.

"I think every doubleheader is a key from here on," Candrea said. "We play UCLA enough to know that it will be a dogfight."

The Bruins are lead by a combination of seniors and freshmen. Senior pitcher B'Ann Burns ranks among the best in the conference's pitching statistics. Through her first 12 games she has a 0.77 ERA with 78 strikeouts.

Senior first baseman Alleah Poulson is hitting .407 and is tied with UA's Alison Johnson with eight triples.

Freshman pitcher Christa Williams is fourth in the Pac-10 in individual pitching with an ERA of 0.93 and a conference leading 87 strikeouts. She was a teammate of Arizona's Leah O'Brien on the 1996 gold medal Olympic team.