By Kristen Davis
Arizona Daily Wildcat March 28, 1997

Wildcats at full strength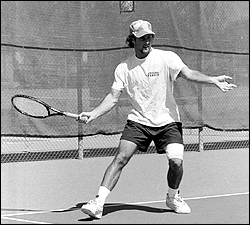 Brian D. Rothschild
Arizona Daily Wildcat

UA freshman Jean-Noel Lacoste is one of many Wildcats returning to play. He has been recovering from an injured groin. Arizona faces Stanford and California this weekend.


The UA men's tennis team has waited nearly six months for this weekend.

The Wildcats will finally have the lineup they anticipated having in the preseason with everyone playing 100 percent, said assistant coach Bob Helmig.

"We now have a full lineup with the players that we've been wanting to put in from the beginning of the season," he said.

Junior transfer Jerome Oliveri played in his first match earlier this month after being out with a back injury since early October.

However, freshman Jean-Noel Lacoste was playing with an injured groin at the time and Oliveri was still rusty from his four-month hiatus.

"I'm feeling good," Lacoste said. "I really look forward to playing this weekend."

The Wildcats (5-5 overall, 0-4 in the Pacific 10 Conference Southern Division) travel to California to face Stanford this afternoon at 1:30 and then play No. 46 California on Saturday at noon in the teams' first meeting of the season.

"I can't wait because I think we're going to be a lot tougher," senior Henrik Wagner said. "We're all really psyched to go up there with our whole team."

Wagner played his junior college at Foothill College, just outside of Palo Alto, Calif., and will have his own special cheering section at Taube Tennis Stadium today.

"It's going to be great to be back in the Bay Area and feel support from my old coach and friends," Wagner said.

The seventh-ranked Cardinal (12-1, 3-0) swept Brigham Young on Wednesday. Stanford won the national championship last season and is led by Ryan Wolters, who is 10-1 in dual matches.

"It's obviously a big difference because we've been playing every match with one or two guys out of the lineup," Lacoste said. "Everybody feels we have a much bigger chance if we play well."

The Bears (6-6, 0-1) are fresh off a 5-2 loss to BYU on Tuesday.

"Cal is a key match for our season because if we want to go to regionals we need to beat them," Lacoste said. "They're not a top team but it's those kinds of teams that we definitely have to beat."