By Kristen Davis
Arizona Daily Wildcat March 28, 1997

Overlooking Northwestern not a problem for UA women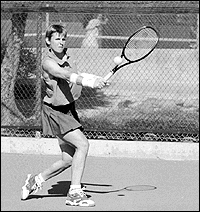 Nicholas Valenzuela
Arizona Daily Wildcat

Vicky Maes returns a shot in a recent match. The Wildcats continue match play tomorrow against Northwestern. Play begins at Robson Tennis Center at 11 a.m.


The 11th-ranked UA women's tennis team must look to Saturday and no further, although it is quite tempting to focus on the matches in the coming weeks.

That's when the Wildcats face No. 35 Northwestern at 11 a.m. at Robson Tennis Center.

The matchup marks Arizona's fourth consecutive time with a team ranked in the thirties or higher, which is a change from Pacific 10 Conference teams that are primarily ranked in the top 10.

Arizona (11-5 overall, 2-4 in the Pac-10 Southern Division) won't play another team that is ranked higher than 17th in its remaining five matches after Saturday.

"We just need to make sure that we don't overlook Northwestern going into next week," UA head coach Becky Bell said. "It's important for us to just take one match at a time and really stay focused on the match that we have this week."

Junior Vicky Maes, the fourth-ranked singles player in the nation, said the team has been practicing with a lot more motivation since they returned from spring break. She said they realize the end of the season is approaching and there are still things the team wants to accomplish.

"We haven't really had a good match where everybody played their best tennis," Maes said. "We believe we can do much better than we have."

Maes, the Wildcats' top player, recorded her 13th singles victory of the season last Sunday when the team swept Washington State improving her dual record to 13-3.

"Everybody realizes what's ahead of us and what we do in practice is going to make a big difference in how we play our matches," Bell said. "Everyone is really energized and focused and ready to go. I've been very, very happy with our practices (since spring break)."

Northwestern (6-6, 2-2) defeated San Diego State, 5-4 on Monday.