By Arlie Rahn
Arizona Daily Wildcat March 28, 1997

UA hopes 3rd time is charm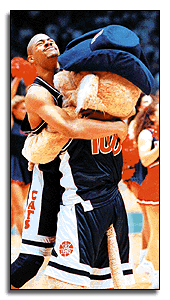 The Associated Press


RIGHT: Arizona freshman Eugene Edgerson hugs Wilbur, the UA mascot, after Arizona downed top-ranked Kansas 85-82 in the NCAA Southeast Regional semifinal game on Friday in Birmingham, Ala.


Perhaps the third time will be the charm.

The Arizona men's basketball team has been to two Final Fours since 1988 but has yet to advance to the championship game.

The Wildcats (23-9) begin their third try tomorrow when they face North Carolina (28-6). The game is scheduled to tip-off at 3:42 at the RCA Dome in Indianapolis.

"The guys have worked hard all year long and we've had some ups and downs that you normally expect with an inexperienced team," Olson said.

"But the things that have remained consistent have been the work ethic and the competitiveness of this group."

The game will be a rematch of the Hall of Fame Tip-Off Classic played in November. Arizona came out on top, 83-72.

"Both teams have progressed so far since that first game, I wouldn't put too much emphasis on its outcome," Olson said. "But in that game, I remember (assistant) coach (Phil) Johnson asking me how I felt as the team was warming up. I said that I was scare d to death. I mean, how do you know how a kid like Mike Bibby or Bennett Davison is going to react in his first Division I game?"

Thirty-three games later, North Carolina is the hottest team in college basketball, owner of a 16-game winning streak. The team's success even surprises head coach Dean Smith at times.

"Our team's success has been a credit to our guys," Smith said. "When we entered the season, everybody pointed to how much better we would have been if Jerry Stackhouse, Rasheed Wallace and Jeff McInnis would have stayed. Now there was no doubt that we wo uld be a more talented team with those guys, but we still have a great deal of talent."

The recent Tar Heel success is due to the play of two guards, freshman Ed Cota and junior Shammond Williams. Cota led the Atlantic Coast Conference in assists with 230, becoming the first freshman to accomplish that feat since Georgia Tech's Kenny Anderso n in 1989. Williams is scoring 14.4 points per game, while leading the team with 94 three-pointers.

"Williams has been a great shooter for them, especially in the tournament," Olson said. "And even while they don't start Cota, he will come in and log as many minutes as their starters."

The Tar Heels' big names, however, are mostly in the frontcourt, second team All-America forward Antawn Jamison (6-foot-9, 222 pounds) and third team All-ACC center Serge Zwikker (7-3, 273). In addition to his 19.1 points per game, Jamison has been a forc e on the boards with 9.1 rebounds per game this season. Zwikker has also put up a near double-double each night with 11.6 points and 8.1 rebounds.

"We are going to have to use our quickness to negate their size," UA sophomore forward A.J. Bramlett said.

"Serge poses a tough matchup for us a lot like (Washington center Todd) MacCulloch did earlier, so we will have to initiate a game plan that works a lot like that game we had down here against Washington."

The Wildcats look to counter with the guard play of juniors Miles Simon and Michael Dickerson and freshman Mike Bibby at the point. Simon and Dickerson averaged a combined 37.5 points in the regular season, but they also made an impact on the boards. The two combined for nearly nine rebounds per game. Bibby has found his stride in the tournament, scoring 17.3 points per game. In the tournament these three have combined for 64 percent of Arizona's scoring.

"They have a great deal of quickness in the backcourt and both Simon and Dickerson are outstanding players," Smith said. "You have to realize that we lost to these guys by twelve and they didn't even have Simon playing. I hope we've improved enough or we' ll stuggle just to keep it close."

Arizona also possesses the most improved frontcourt in the tournament, with Bramlett leading this group of unknowns. He is leading the tournament in rebounds with 46, while also scoring over 11 points per game. Junior forward Bennett Davison scored a doub le-double against Providence (14 points and 12 rebounds) and has come to life offensively. But with the assignment of Jamison the Wildcats will be more concerned with his defense.

Davison and Bramlett, with the help of freshman Eugene Edgerson and sophomore Donnell Harris, held Scot Pollard and Raef LaFrentz of Kansas to just 14 points - all of them from LaFrentz.

"Their combination of Davison, Bramlett and the others dominated a Kansas front-line that I feel was one fo the best in the country," Smith said.

"We have a slight advantage in size, but they are very quick."

As in the Kansas game, the Wildcats are not backing down from the favored Tar Heels. They appeared relaxed and confident heading into the biggest game of their careers.

"It should be a good game," Davison said. "But it is unfortunate that North Carolina's season will begin and end with a loss to Arizona."