By Kevin Clerici
Arizona Daily Wildcat March 28, 1997

Geary shares ideas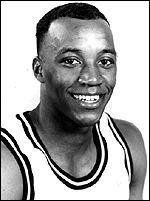 Arizona Daily Wildcat

Reggie Geary, UA graduate and current Cleveland Cavalier


In college basketball there is nothing bigger than the Final Four.

The lights, the media, the hoopla, all combine to try and swallow teams whole.

About the only thing that the players can count on are the 10-foot baskets and an abundance of adrenaline.

UA graduate and current Cleveland Cavalier Reggie Geary survived Arizona's last Final Four appearance in 1994.

His subtle advice for this year's team is to "just relax and enjoy it."

Good luck.

Geary, who was on last year's Sweet Sixteen team that lost to Kansas, likes the Wildcats' chances.

"Earlier this season, I spent some time with the guys and I knew they were very talented. My only concern might have been that they were a little inexperienced, but I knew Miles Simon and Michael Dickerson would get this team ready."

Simon took over the title of floor leader that Geary held last season.

And while the road to Indianapolis has been bumpy at times for Simon and the current team, Geary thinks that they are coming together.

"I would like to think I had something to do with (Simon's maturity)," he said. "After you graduate, you try and leave something behind. I have seen Miles since his freshman year and he has really improved as a player and a leader."

Geary knows the importance of the point guard position. Mike Bibby may still be a teenager, but his success is no surprise.

"He is a very talented individual. When he came to Arizona, he was already playing at a college level with his experiences in high school and other areas."

Being on the road has made it tough for Geary to watch all the games, but what he's seen of Arizona big men has impressed him.

"A.J. (Bramlett) didn't back down from anybody, and worked his way right into the mix," Geary said. "I've also seen Davison play and he is one of the highest leapers I've ever seen. While they might not be the bulkiest, they work hard and are pretty successful."

Geary said he was happy when center Donnell Harris came in for Bramlett, who had fouled out, in the Providence game and grabbed some huge rebounds in overtime.

"When Donnell came here, we knew that redshirting was the best thing in the world for him. Since then he has put on a little size. But at 6-11, he already had that pretty much taken care of," Geary said.

Seeing the game on TV, Geary was reminded time after time that his steals record had been broken by Jason Terry.

"I have no problem with that. Jason is extremely quick and there isn't anyone else I would rather have break the record. It's nice to have played with the guy who finally did break it."

Playing with the Cavaliers is a dream come true for Geary, but the memories of his trips to the Big Dance haven't been forgotten. If Arizona beats North Carolina, it will be the school's first time in the championship game.

No matter what the outcome, Geary said the experience alone for Arizona's youthful squad is immeasurable.

As for more advice, he said to keep things simple.

"This may come only once and you want to make the most of it," he said.