By Jay G. Tate, Weekend Sports Editor, Kentucky Kernel
March 28, 1997

Pitino, Kentucky silencing critics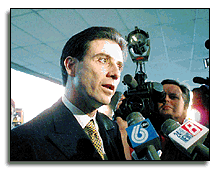 The Associated Press


Kentucky head coach Rick Pitino


Not long ago, Kentucky head coach Rick Pitino was a marked man.

His slick nature, quick-witted demeanor and significant success on the court led people like Georgia Tech head coach Bobby Cremins to exclaim, "Rick Pitino is the man in college basketball."

But like any strong-minded person in the media spotlight, criticism began to rear its ugly - and sometimes unwarranted - head.

The criticisms were generally of the garden variety. Sure, he's amassed a nearly 75-percent winning percentage over his 14-year career, but people claimed he couldn't win the big one.

UK has become a national power but when it gets down to it, the critics claimed, UK's frenetic and frenzied three-point offense is fundamentally a gimmick.

But all that was suddenly quieted one day in early April 1996. The Wildcats eased past a worn-down Syracuse team in New Jersey to win the national championship.

Immediately after, the piercing scrutiny shifted focus about 700 miles east - to Lawarence, Kan., and another school draped in success and headed by a coach with tremendous skills and lineage. But thanks to Arizona the Kansas Jayhawks are out of the fray.

As for the Kentucky program, things seemed to be headed for a down period after losing seniors Tony Delk, Walter McCarty and Mark Pope to the NBA. In addition, former UK star Antoine Walker announced his intentions to enter the professional leagues early after only two seasons in Lexington.

The net effect of the personnel changes was a completely new look for the UK team during the 1996-97 season.

The process was both laborious and heartbreaking. Throughout the season, no less than five UK players were sidelined with injuries ranging from the mild (a strained back for Ron Mercer) to serious (Derek Anderson's season-ending anterior cruciate ligament injury).

As a result, UK took its lumps - though most teams would love lumps like these. Clemson edged the Wildcats to open the season and a relatively unknown Mississippi team ambushed Kentucky in January. The losses had the UK faithful bracing for a rough road.

Nearly four months later, the Wildcats are 34-4, and Pitino is enthralled with the play of his ballclub.

"This team has played a top 5 schedule this season," Pitino explained Monday. "I think they accomplished more than any other basketball team I've coached. Will we win this weekend (against Minnesota)? I don't know. But at the beginning of the season, I th ought this team would be .500, maybe a little better. It's been amazing what they've done."

So amazing, in fact, Pitino has labeled the team "The Unbelieveables".

UK's hot-shooting forward Cameron Mills agrees with the analysis.

"I think that exactly fits this team," Mills said. "I was thinking the other day that Coach was going to come up with another nickname for us and that's exactly what I was thinking. If we could pull off two more victories, then I would definitely agree wi th that nickname."

Also in agreement are the fans across the Commonwealth who expected the worst this season. To lose so many players, then bounce back into college basketball's holy grail for a second straight year has UK supporters dreaming of another title.

And the coaching criticism?

Not a word in Lexington.

Lawrence, Kan. is way out of earshot.