By The Associated Press
Arizona Daily Wildcat March 28, 1997

Women's teams no strangers to injury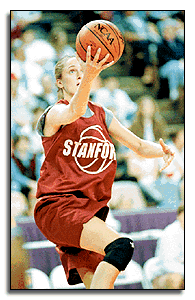 The Associated Press


Stanford forward Kate Starbird drives for a layup during practice yesterday at the NCAA Women's Final Four in Cincinnati. Stanford plays Old Dominion in tonight's semifinal game.


CINCINNATI - Call it the survival of the unfittest.

The women's Final Four teams have filled up emergency rooms, tied up X-ray machines and bought up rolls and rolls of tape in order to get this far.

Two of them - Stanford and Notre Dame - were so decimated by injuries that they had volleyball players suit up. The other two - Tennessee and Old Dominion - had players tear up knees, catch pneumonia and come down with something called Hoshimoto's Disease .

Somehow, they made it through, if not quite all in one piece.

''I'm so proud of this team,'' Notre Dame coach Muffet McGraw said. ''They've played with tremendous heart and they've not hung their heads at all.''

They're beat up, but they're the last ones standing.

When they play the semifinals at Riverfront Coliseum on Friday, it will be a testament to their pain threshold that they made it this far.

No one has been through more pain than Notre Dame (31-6), which has suited up a volleyball player and a student manager to survive the season.

The Irish were down to seven scholarship players at one point because of injuries.

On the medical front, it's been nothing but bad luck from Day 1.

Twenty minutes into the first practice of the season, guard Danielle Green tore an Achilles tendon, ending her season.

Five games into the season, guard Niele Ivey tore a knee ligament, ending her season. Volleyball player Kristina Ervin joined the team and broke her nose after six games.

It didn't end there. In February, guard Kari Hutchinson broke her hand and missed eight games. And guard Adrienne Jordan injured her hip in tournament play.

''All we've heard all along is we only have seven or eight people, we don't have enough horsepower, we don't have the depth, we don't have the size and we don't have the quickness,'' McGraw said.

''This team likes to hear what they can't do, then they turn around and do it.''

Notre Dame can compare scars with Tennessee (27-10) in their semifinal tonight.

The Lady Vols lost point guard Kellie Jolly before the season began, one reason for a poor start.

Then Laurie Milligan, who replaced Jolly at the point, tore cartilage in her knee and had surgery.

''At the time we were going through that, we were wondering if we were going to see the end of the tunnel, so to speak,'' Lady Vols coach Pat Summitt said.

Fortunately for Tennessee, Jolly was able to return and play effectively. The Lady Vols were 10-6 without her and 17-4 since her return, putting them in position for their fifth national title.

''When we started the season, I did not think this basketball team could win a national championship,'' Summitt said. ''On paper, I said we're not supposed to win. But I'm not going to count this basketball team out.''

Stanford (34-1) can commiserate with Notre Dame. A series of injuries - strained knees, a broken finger - forced coach Tara VanDerveer to bring in All-America volleyball player Kristin Folkl and her 38-inch vertical leap. At the time, Folkl was fresh off a national volleyball championship.

''I don't know that I've ever been on a team that's so close,'' Folkl said.

''You wouldn't believe the bonding that goes on. It's rare that everyone on a team is so committed to one goal.''

Old Dominion (33-1) has been the healthiest of the bunch, but that's not saying much. Backup center Angie Liston has been sidelined since Jan. 31 by a thyroid condition called Hoshimoto's Disease. Clarisse Machanguana missed a couple of games with pneumon ia.

Otherwise, the main question about Old Dominion is its strength. The Lady Monarchs have struggled in the tournament, needing overtime to beat Purdue and going scoreless in the final 6:35 of a victory over Florida.

As long as All-America point guard Ticha Penicheiro stays healthy, Old Dominion figures it has a chance.

''We've got the best point guard in the nation and I wouldn't hesitate to go to war with her on the court,'' coach Wendy Larry said.

''She'll give us everything we want and then some.''

The championship game will be played Sunday afternoon. All three games will be televised live on ESPN.