By Amanda Riddle
Arizona Daily Wildcat April 7, 1997

April showers drown Spring Fling revenues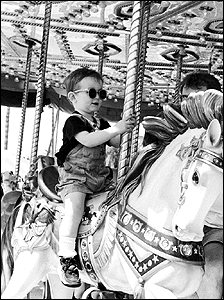 Tanith L. Balaban
Arizona Daily Wildcat

Eighteen-month-old Mitchall Daugherty enjoys his first ride on a carousel Saturday at Spring Fling while his father, Mick, looks on. The Daughertys came to Tucson from Alaska for business and decided to take a break and visit Spring Fling.


For the second year in a row, Spring Fling suffered a financial setback because of bad weather, Spring Fling Director Keith Henson said.

"If the weather is going to beat you down, there is nothing you can do," Henson said about the rainy weather that deterred patrons from attending the first day of the carnival.

Rainy weather caused the carnival to close at 8:30 p.m., 31/2 hours before the scheduled midnight closing time.

Henson said that in the past, 50 percent of the carnival's income has been made on Thursday, which is Wristband Night. He said the bad weather will affect overall profits.

Last year's carnival lost $10,800, and Henson said the windy weather was the reason for the loss in revenues. The Associated Students, who put on the carnival, covered the losses from its rollover budget.

Henson said he will not know how much revenue the admission and rides generated during the past four days, or whether this year's carnival will reverse a seven-year trend of spending more than it has earned, until later in the week.

By Sunday, Spring Fling was under its $190,000 budget by 20 percent, which will help the carnival because of the decreased revenues Thursday, Henson said.

But not everyone at the carnival was negatively affected by Thursday's cold, rainy weather.

Alpha Epsilon Delta had $368.40 in revenues Thursday selling Cuppuccinos Coffee. The sorority kept $313.14 of their total sales after 15 percent went to Spring Fling for overhead costs.

In contrast, the average booth revenue on Thursday was $68.98.

"We did really well due to the rain because we sold a lot of hot drinks on Thursday," said Anita L'Italien, president of Alpha Epsilon Delta and a molecular and cellular biology senior.

For the cold beverage booths sponsored by Kalil Bottling Co., usually one of the top sellers at the carnival, business was slow.

Tamra Greenway, a management information systems sophomore and member of the Management Information Systems Association, said her booth was hurt by the weather on Thursday and Friday. The association sold soda sponsored by Kalil.

Thursday, the group took in $10.44 after Spring Fling took out 15 percent for overhead. On Friday, it earned $246.61.

"I don't think we've made enough to cover our cost yet," Greenway said after Spring Fling had been open for an hour Saturday. She said the group spent $110 on its booth and Kalil deducts the cost of ice, soda and cups from the club's revenue after the carnival.

Thursday, the total net earnings for the food, game and entertainment booths operated by UA clubs was $5,104.58. Friday, the net revenue was $21,330.55.

Spring Fling is a non-profit group started 23 years ago to raise money for UA clubs and organizations.

Usually, the commercial game booths generate the most revenues, and the clubs that put a lot of work into their booth also do well overall, Henson said.

Saturday during the day, the carnival attracted mostly families, who spent money on everything from baked potatoes to stuffed animal prizes while basking in the warm weather that held through Sunday.

Henson said he thought Saturday's attendance was up from the 8,000 people who attended Spring Fling on Saturday last year.

"It was a big day for food and families," Henson said.

The net earnings Saturday for the clubs was $35,214.

The top revenue-generating booth this year was Basketball Toss, a commercial game booth operated by Chain Gang junior honorary and Camp Wildcat.

"We consistently had people playing Friday night and the prizes are better than in the previous years," said Demetria Shadegg, a Chain Gang member and a mathematics and education junior.

Friday, the game booth generated $1,664.64 in net earnings and Saturday it generated $3,094.99 while the average net earnings for the clubs was $463.34.

Judy Gillman, a UA alumna from Chicago, her husband and three children were eating baked potatoes while resting between rides.

"The carnival was very well set up. The ticket booths are better spaced this year. It is costly to come, but for the quality of the rides it makes sense economically. I can justify it," Gillman said.

She said her family has come to Spring Fling the past five years, while visiting family in Tucson. She said they usually spend about $200 at the carnival.

Henson said the new layout, which created a circular pathway instead of rows around the carnival, got great reviews.

Henson said this year's Spring Fling was progressive and the new ideas that were implemented hopefully will be used again to help future carnivals make a profit.

He said one of the new ideas that was not as popular as he had hoped was the Student Paks and Family Paks.

The Student Paks were sold for $15 in the Memorial and Park student unions to UA students only. They included one admission, $10 in scrip and two rides.

"We sold just over 100 Student Paks. This wasn't our expectation, but we understand that those type of promotions take a couple years to catch on," Henson said.