By Jennifer Sterba
Arizona Daily Wildcat April 16, 1997

High schoolers brought to UAscience forum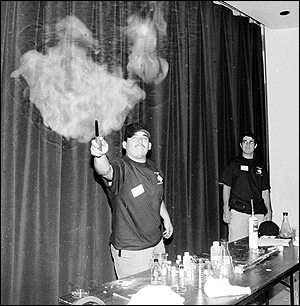 Karen C. Tully
Arizona Daily Wildcat

Joel Corrales, a computer engineering sophomore and member of the Society of Hispanic Professional Engineers, explodes a hydrogen-filled balloon yesterday for freshmen and sophomores from Amphitheater High School. This demonstration was part of the Eighth Annual Young Latino Forum designed to attract high school students to chemistry, science and the UA.


A UA society encouraged a group of female high school students yesterday to continue their education in science and engineering at the Eighth Annual Young Latino Forum.

"Our major goal is to make minority women aware of the opportunity in pursuing higher education in science and mathematics," said Ann Becerra, a systems and industrial engineering senior. "In the past, women have been underrepresented in these fields."

The Society of Hispanic Professional Engineers invited about 130 minority female students from seven high schools to attend several sessions, tours and demonstrations at the University of Arizona.

Gabe Magallanez, president of the UA society, said the university has seen a definite increase in the number of high schools participating.

Cholla, Desert View, Pueblo, Amphitheater, Sunnyside, Tucson, Flowing Wells and Nogales high schools participated in this year's event. Only four schools participated last year, he said.

Magallanez said the society targets minority female students and brings them to campus for a day to promote science and engineering. The event was instigated by the UA chapter.

"It gives students a hands-on idea of the science behind things," Magallanez said. "It makes it interesting for them."

The event cost between $3,000 and $5,000 and was funded by Tucson businesses as well as Honeywell and Intel, he said. The society provided students with T-shirts and lunch.

Magallanez said about 90 percent of the society members are Tucson natives. He said he would not be surprised if 75 percent of the students who came to the event continued their education at UA.

"I think the return rate is excellent," Magallanez said.

Jessica Vasquez, a freshman at Cholla High School, said her counselor encouraged minority female students to come to the event.

"Today really encouraged me because of the need for women engineers," Vasquez said.

Becerra said students participated in four sessions.

The first session was a student panel made up of members of the engineering society. The session highlighted various support programs in high schools, such as Academic Preparation for Excellence, she said.

The second session was a "magic show," a chemistry demonstration put on to "get them (students) excited about science," Becerra said.

The third session gave students tours of various engineering laboratories around campus.

In the fourth session, students competed in teams to solve simulations of real-life problems. One problem simulated an oil spill and asked students how they would remove oil from water.

"The goal is to focus on what is accomplished instead of winning," Becerra said.

Becerra said the event is fully organized by the Society of Hispanic Professional Engineers with some support from the faculty.