By Jason A. Vrtis
Arizona Daily Wildcat April 16, 1997

Symington honors Wildcat champions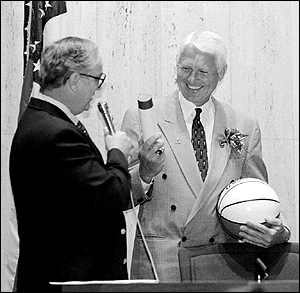 Arizona Daily Wildcat

Symington and Lute share their moments.

The Arizona Wildcats have savored the spoils of victory since their NCAA championship win, including a smoked ham, courtesy of the governor of Kentucky.

Republican Gov. Fife Symington and his wife Ann hosted a luncheon in the President's Skybox at Arizona Stadium yesterday honoring the national champion University of Arizona basketball team.

Symington presented head Coach Lute Olson and each team member with a state proclamation and their NCAA championship rings.

The governor also presented Olson with a smoked Kentucky ham that he won from a bet with Kentucky Democratic Gov. Paul Patton. Symington promised Patton a five-pound enchilada if the UA Wildcats lost, instead he gave the enchilada to the team.

"Their championship takes us up to a whole new level of recognition in athletic competition. The U of A and the Wildcats have really put this state on the map," Symington said.

Olson, who earlier in the day traveled to Phoenix to be honored by the Legislature, presented Symington with an autographed team ball, a UA athletic centennial hat and an official Final Four team T-shirt.

"I think it was great for Governor Symington to do this knowing that it was not possible for us to get the team up to Phoenix," Olson said.

All Arizona players were in attendance except Final Four MVP Miles Simon and junior forward Michael Dickerson. Simon and Dickerson were unable to make the luncheon because they were attending class.

Freshman forward Eugene Edgerson said the event was something special because not many people get the chance to be honored by the governor.

"I hope we can do all of this next year. It would be nice to get another proclamation from the governor," Edgerson said.

Olson said he and the team have been busy following their March 31 national championship victory over Kentucky.

"The thing that has been great about it all is going around Tucson and all over the state to see all the enthusiasm people have for the Cats," Olson said.

Olson said he and his wife Bobbi have not yet reflected on the victory. Next week they go on vacation, where they can let it all sink in.

UA Athletic Director Jim Livengood was also given a copy of the proclamation and a ring.

Livengood and Symington both donned aprons and served the players the ham, enchilada and other food at the luncheon.

About 50 people attended the event, including Student Regent Jonathan Schmitt, who sat with the players.