By Kristen Davis
Arizona Daily Wildcat April 16, 1997

UTEP brings good record, low rank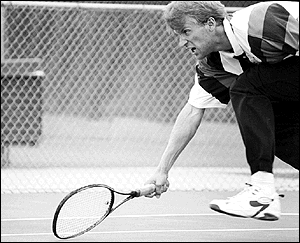 Brian D. Rothschild
Arizona Daily Wildcat

UA senior Roland Kupka scrambles for a lob against his California opponent Friday. The Wildcats face the 54th-ranked UTEP Miners today at 1:30 p.m. at Robson Tennis Center.


This afternoon's men's tennis matchup means much more than meets the eye.

At first glance, it would seem the 1:30 meeting at Robson Tennis Center between No. 63 Arizona and No. 54 UTEP looks like a battle of pride for two lackluster teams with just two matches remaining before the season ends.

Rankings, however, mean little when it's crunch time for teams fighting for a chance to advance to regional play.

Taking a closer look, one would see two teams heading in two different directions.

Arizona is struggling, losing nine-straight matchess, with its last win coming over five weeks ago against Michigan. The Wildcats (5-12 overall, 0-9 in the Pacific 10 Conference Southern Division) continue to be plagued by injuries, with three players on a match-to-match status.

"Every time we go out there we try to redeem ourselves a little bit," UA senior Roland Kupka said. "There's definitely some pride involved."

UTEP is on the rise. The Miners are 11-4, a complete turnaround from the 10 matches the team lost last season.

"I've heard this is the best team they've had in a long time and with the trouble we're having, (a win) is going to be extra-hard," UA head coach Bill Wright said. "They're kind of on an up and we're kind of on a down, and we're trying to stop the down while they're trying to keep going up."

UTEP started its season with six-straight victories, but is 1-3 in its matches this month.

Victories over UA today and No. 46 Arizona State tomorrow would certainly strengthen the Miners' argument heading into regional play, since the Arizona schools are the only Pacific 10 Conference teams they face all season.

"It is a huge incentive for them to play well and beat us because the Pac-10 is (considered) the best conference in the country," Kupka said.

UTEP received its highest national ranking in school history when it reached No. 45 earlier this season.

Although UTEP has improved from last season, it has had trouble in the past against Arizona, losing all four meetings, including 7-0 decisions over the last two seasons.

"My guys unfortunately got caught up (because) they know how traditionally strong a Pac-10 team is in tennis and they felt intimidated," UTEP head coach Ron McGaughy said. "We appreciate the opportunity to get to play those (Pac-10) schools and I know Arizona's hungry to get a win."

"Rest assured it's going to be tough because they're fired up to beat us," Wright said. "This is a huge match to them because they're in the WAC and we're in the Pac-10, and this is where the tennis is. This is their chance to play."