By Edina A.T. Strum
Arizona Summer Wildcat July 30, 1997

Sypherd named interim president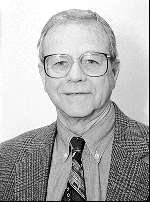 Arizona Summer Wildcat

Provost Paul Sypherd.


For the next two months, the University of Arizona will be under the direction of Provost Paul Sypherd.

On July 22, the Arizona Board of Regents named Peter Likins, now president of Lehigh University in Pennsylvania, as the UA's next president.

However, Likins will not officially assume that post until Oct. 1 and asked the regents to appoint Sypherd as interim president.

"I know that the university is in good hands, and I believe this experience will strengthen the partnership that Paul and I hope to forge," Likins said in a press release.

Sypherd was out of town this week but asked Michael Gottfredson, vice president for undergraduate education, to speak on his behalf about the responsibilities facing an interim president.

The role of an interim president and a standing president are one in the same, Gottfredson said.

All financial decisions, direction of academic programs and representation of the university to the Arizona Board of Regents, legislature and the community fall on the shoulders of the president, he said.

In addition, weekly president's cabinet meetings are held to address issues facing the entire university, which, he added, includes the Arizona Health Sciences Center, the Arizona International Campus and the Sierra Vista campus.

The job of leading a university with a $900 million budget, 35,000 students and 15,000 faculty and staff members is enormous, Gottfredson said.

"It is critically important to have a single person designated as the leader and focal point of contact for the university," he said.

Besides, "I assume somebody's got to sign some checks," Gottfredson said, laughing.

In his role as senior vice president of academic affairs, Sypherd has been the second in command at the UA for several years. Assuming the president's duties is nothing new for him, Gottfredson said, because any time outgoing President Manuel Pacheco lef t town, Sypherd was acting president.

Sypherd also will continue to handle the responsibilities normally under his leadership as vice president and provost.