By Jason A. Vrtis
Arizona Summer Wildcat July 30, 1997

New UA president spends two days learning the ropes around campus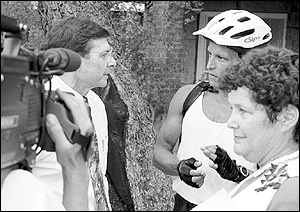 Robert Henry Becker
Arizona Summer Wildcat

New UA President Peter Likins speaks about campus issues with Jeff Reeves, a graduate student visiting the university, during a press conference outside Old Main on Monday. Likins was on campus to meet with faculty, administrators, students, and community leaders.


In his first visit to the UA after accepting the position of president, Peter Likins was led on a two-day, whirlwind tour of the campus and local community as he met with students, faculty and local city and business leaders.

Likins, 61, arrived in Phoenix Sunday night and spent the next two days familiarizing himself with the campus and gaining different perspectives on his upcoming role as president at the University of Arizona.

He was chosen unanimously by the Arizona Board of Regents on July 22 as the 18th president of the UA. He will replace Manuel Pacheco who has left to take over the presidency at the University of Missouri system.

Likins will take office on Oct. 1 and serve an initial appointment period through June 30, 2000. He has been the president of Lehigh University in Pennsylvania since 1982.

His visit got off to a rocky beginning in Phoenix as his connecting flight was canceled at 1:30 a.m. and he had to stay in a hotel before flying into Tucson early Monday morning. The delay caused him to miss the first two scheduled appointments of his vis it, but he rescheduled them for the following day.

Likins said Monday at a news conference that he has been warmly received by the campus and Tucson community.

"I've already formed good relationships with many people, and as my wife and I set up roots here in Tucson, I hope to continue to forge new relationships," Likins said. "We expect to be part of this community for a long time."

Regent John Munger was also present at Monday's news conference speaking on behalf of the board about how excited and proud the board is to have Likins as the new president.

"We sought somebody that is a world-class leader to bring the UA to its mission and I'm very pleased to say we found exactly what we were looking for," Munger said.

"This person not only brings a great understanding of science and research with him, but also a great understanding and a love of humanities and the liberal arts," Munger said.

Likins is also a successful fund-raiser. At Lehigh, Likins raised approximately $500 million in a 15-year period and he said he hopes he continues that success here.

"Any university, public or private, has the responsibility to garner funds and surely I will do that," Likins said. "I've had a lot of success in smaller arenas and now I get to step up to all of the challenges of a premier public university."

President Likins toured the Administration building, facilities management, the Athletics Department and the Arizona Health Sciences Center among other locations.

On Tuesday morning Likins took a campus tour with seven student leaders led by ASUA President Gilbert Davidson.

Davidson said it was the new president's first real tour of the campus and that Likins enjoyed learning about the traditions and history of the UA.

"He's going to be an incredible addition to the UA," Davidson said. "He is very open-minded to student issues and wants to meet and work with students to better understand their concerns."

Davidson said Likins will be confronted with a lot of issues that are different than those at a smaller, private university like Lehigh. One of those is student population.

Lehigh University in Bethlehem, Penn., has a student population of about 6,300 compared to the UA's about 35,000 students. Likins was a popular figure among students there, but he has acknowledged that most of his contact with students here at the UA will have to come through student leaders.

ASUA and the president's office will play key roles in setting up forums, or times where student leaders or any student can meet with Likins to speak about issues, Davidson said. He said he plans to meet with Likins at least once a month, if not more.

"Likins will be a much more visible president and that will benefit students," said Brook Rosenbaum, the Arizona Students Association Director.

Rosenbaum, who also went on the tour with Likins said he is impressed with the new president's enthusiasm and he will bring with him a lot of energy.

Jeff Reeves, a student who is visiting the UA campus inquiring about its graduate school programs stopped at the news conference and spoke with Likins about campus issues including fund raising.

"Whenever you have the president in earshot, you should ask questions about issues that need to be brought up," Reeves said. "He is a big-time fund-raiser, and if he is student-based like he said then everything will be just ducky."