By Greg Clark
Arizona Summer Wildcat July 30, 1997

Researcher splices skills into high school teachers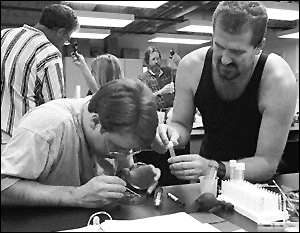 Robert Henry Becker
Arizona Summer Wildcat

Teachers Matt Runyon and Reggie Bell place broth and a single bacteria colony into a test tube for mixing in a chemistry lab Monday.


Until recently, biotechnology was a heady branch of biology, new and somewhat daunting to students when they encountered it in college biology classes, said a local high school biology teacher.

But with DNA extraction underpinning the popular film "Jurassic Park," forensic DNA evidence now commonly used in courtrooms, and sheep cloning a reality, biotechnology is growing in the public's awareness.

Now, a project at the University of Arizona is focusing on teaching biotechnology in high school biology classes.

For the past three weeks, 10 secondary school teachers from Tucson and Phoenix have been taking a laboratory course designed to give them hands-on experience in the DNA manipulation that is the hallmark of biotechnology.

The course, taught by Kenneth Kubo of the department of Molecular and Cellular Biology, and director of the BIOTECH Project, has allowed the high school teachers to extract DNA from onion cells, splice genes into bacteria, and perform experiments in DNA f ingerprinting.

The BIOTECH project is a $300,000, 3-year program funded by the Flynn Foundation of Arizona, the state's largest private foundation, dedicated to education in bio-medical research and health care-related areas.

"The project is an outreach program designed to expose high school students to biotechnology information in high school biology classes," Kubo said.

"I want to give them a better understanding of biotechnology so they can understand how it is going to affect their lives," he said. "Genetic testing and engineering have major implications for society, and people need to be able to make informed decision s."

During the academic year Kubo travels to Arizona high schools teaching science classes for a week at each school. He provides the equipment and expertise the students need to perform the same laboratory experiments scientists use to separate genes out of DNA.

He packed his equipment into a mid-sized car, and last year visited 25 Arizona schools from Bisbee and Nogales to Page, including schools on the Tohono O'odham and Navajo reservations.

"The kids really enjoy the labs," Kubo said. "It's all hands-on, they get to use the technology they wouldn't otherwise have access to, and they love it because it's cutting edge," he said.

But one of the most important aspects of teaching the high school students is teaching their teachers, said Kubo, and that is what the summer course is about.

Kristine Yarter, who teaches biology at Sabino High in Tucson, said the summer course makes it possible to teach students about biotechnology.

"This is a whole field that wasn't around when I was in college back in the '70s," Yarter said. "Now in the high schools we are doing labs that were people's doctoral dissertations 20 years ago, and (Kubo) is essentially de-mystifying it for us," she said .

John Menke, who teaches biology at St. Gregory High School in Tucson, is another member of Kubo's class. Menke, who has a doctorate in evolutionary biology, said biotechnology was foreign to him. He said the course has provided a valuable foundation of un derstanding from which he can teach his students.

"We can read and gain some theoretical knowledge of biotechnology, but it is like reading a book on how to rebuild the top half of the engine of your car, its much better to work as an apprentice and really learn how to do it," Menke said.

Kubo plans to visit about 20 schools this year assisting teachers in biotechnology.

Ultimately, Kubo's goal is to get enough teaching knowledge and equipment in the high schools so the teachers will be able to do it without him.