By Jennifer Sterba
Arizona Summer Wildcat July 30, 1997

UA ranks 10th in research and undergraduate education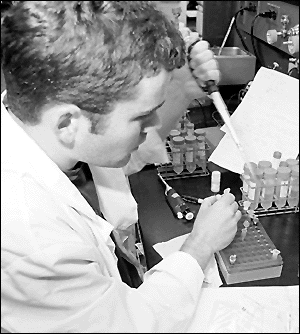 Dan Hoffman
Arizona Summer Wildcat

Jonathan Dodge, a pharmacology and toxicology doctoral candidate, uses a pipet to isolate DNA in cancerous human cells. Research like this makes the UA a top 10 research institution.


The UA is one of the few universities that integrates research and undergraduate education, and has the ranking to prove it, according to 1996 rankings provided by the National Science Foundation.

The University of Arizona ranked 10th for the first time in publicly funded research universities last year after bringing in about $292 million in research grants and contracts for 1996, according to the National Science Foundation.

In February of this year, the National Science Foundation awarded a half million dollars to the UA for its success in integrating research and undergraduate education. It is this type of recognition that has made the university stand out to students like Aaron Battraw, a senior in biochemistry.

Battraw, who will graduate in August, is one of many undergraduates benefiting from more than $5 million the university spent last year on students' hourly wages in research laboratories.

Michael Cusanovich, vice president for research and graduate studies, said in a March interview with the Arizona Daily Wildcat that the increase in UA's ranking is due largely to the substantial success in research the colleges have made.

For example, undergraduates in the College of Engineering and Mines designed the circuitry for the Sojourner land-rover, which is now on the surface of Mars studying rock composition for the Jet Propulsion Laboratory in Pasadena, Calif.

The National Science Foundation releases two lists of the top-ranked research universities each year based on research expenditures, which are based on how much money the university receives from grants and contracts. The foundation is the national award- making agency on behalf of the federal government.

One list is comprised of both private and public universities, while the other contains only public universities.

The UA ranked 14th in both private and public universities, and 10th in public universities, moving up two and three places respectively from last year's ranking. The UA passed up Harvard and the University of California at Berkeley.

Charles Geoffrion, associate vice president for research, said in a March interview with the Wildcat that four colleges can be credited for the improvement in UA's ranking: the College of Science, College of Medicine, College of Agriculture and the Colle ge of Engineering and Mines.

Geoffrion said the ranking suggests the faculty are doing their jobs and there is a "hand-holding" between research and teaching.

Students receive pay, university credit and resume experience when they work on research projects, Battraw said.

Battraw said students who know what they want to do should try to join research programs like NASA's Space Grant Program or the Undergraduate Biology Research Program.

Battraw transferred from Eastern Arizona College through the Arizona Space Grant Consortium, which provides students the opportunity to do space-related research.

The program is one of 51 NASA-funded programs in the nation that allows students to do research in a variety of fields, from space medicine to engineering.

Last year, nearly 28.9 percent of the UA's research awards were secured by the College of Medicine, with about $20 million being given to cancer research.

Battraw works at the UA College of Medicine, in the orthopedic biomechanics laboratory, where strain sensors are being attached to bone. These sensors measure the amount of pressure the bone can handle.

His job is to determine how to attach the sensors to bone with a kind of "super glue," by placing calcium on the sensor.

"I've gained so much from doing research," Battraw said.

Battraw said he has gone to conferences, published a paper and has a second paper submitted for publication.

Overcoming obstacles, problem-solving and working with other people is hard work, he said.

"Once they're (students) in their second year, it (research) helps them connect what they're doing in the classroom to real-world problems," said Battraw's research adviser, Dr. John Szivek.

Szivek is a professor of orthopedic surgery and associate professor in material sciences and aeronautical and space engineering. He has four undergraduates conducting research in his orthopedic laboratory this summer.

Szivek said the problem high school graduates often have is that they have been "spoon-fed" their education up until now. The classroom atmosphere changes when students get to college.

"They're expected to fend for themselves," Szivek said.

Students will find themselves having to go to the library to obtain information the professor does not give them in lecture. They are forced to do research on their own, he said.

"They see that's how the real world works," Szivek said. "They personally not only have to make an effort, they have to do things they normally haven't had to do in the classroom."

Szivek said research involves taking an active approach to learning.

Battraw said he plans to attend the American Graduate School of International Management in the fall because there are some good opportunities incorporating business and science.