By L. Anne Newell
Arizona Summer Wildcat July 30, 1997

Campus services available for all students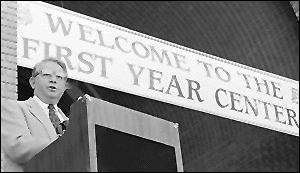 Arizona Summer Wildcat

Former UA President Manuel Pacheco addresses a crowd of students and faculty in front of the Bear Down Gym last October for the ribbon-cutting of the Freshman Year Center. The center provides new students with tutoring and advising.


Although various student services are available for incoming freshmen and returning students, "People don't find their way to these resources," said Reed Mencke, associate director of the University Learning Center.

University Learning Center

"One of the biggest transitions a student has to make is in terms of studying," Mencke said.

In high school, students average less than five hours a week for studying, he said.

"Going from five to 30 or 40 (hours) a week is a big transition."

To help with the transition, students are able to make appointments with ULC for free, individual tutoring sessions.

In addition, the ULC offers a private tutor index of tutors available outside the center.

ULC also provides non-credit study strategy workshops such as "Reading Textbooks Effectively" and "Note taking and Exam Preparation."

ULC holds a workshop, "Making the Grade for Freshmen," which Mencke recommends to incoming students.

"This may sound like low-level stuff, everyone knows how to read, but really reading texts is hard. You need purpose and direction. We teach this," he said.

The ULC offers various tests, such as the Math Readiness Test and the College Level Examination Program, which allows you to receive credits by exam in 32 subject areas.

"If you do something really exceptional in high school, you shouldn't have to do it again in college," Mencke said.

Freshman Year Center

The center focuses on centralizing many services and acts as a home base for freshman, said Socorro Vasquez, assistant director of the ULC at the Freshmen Year Center.

"For brand new students, this is the obvious place to come in and ask questions," she said.

The FYC offers free tutoring to students with majors in the Colleges of Social and Behavioral Sciences and Humanities, along with those students who have not declared a major.

Any student is welcome to use the center, but priority is given to freshmen in these two colleges.

In addition to tutoring, the FYC houses ACES, the Advising Center for Exploratory Students, which helps students choose a major. A mentoring program is also offered to undeclared students.

Women's Resource Center

"College women need support. Many of them are away from home for the first time," Ari Hopkins, director of the women's resource center, said.

"This is a place where you can get support, which makes transitions easier," she said.

The WRC offers a large library, many support groups, connections to other Tucson women's groups and self-defense classes.

Career Services

Career Services offers individual career counseling, an interest questionnaire, career planning workshops, a career and employer library and résumé writing and interview workshops.

The Wildcat Jobline, which allows students to search job listings by phone, is open 24 hours a day, 7 days a week. The number is 791-6456.

Center for Transfer Students

Students can take advantage of the center's Nights Out, mentors, Transfer Talks, library orientations, support groups and career services workshops.

Oasis

Oasis Center for Sexual Assault and Relationship Violence provides walk-in and telephone assistance, crisis counseling and safety planning.

It also offers consultation, support, advocacy and information and referral regarding campus and community resources.