By John Brown
Arizona Summer Wildcat July 30, 1997

Greeks rush into fall semester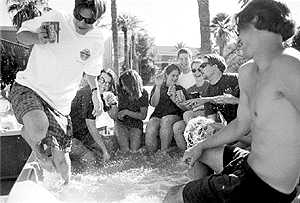 Arizona Summer Wildcat

Alpha Kappa Lambda fraternity and Delta Delta Delta sorority hot-tubbed on the UA Mall last march to increase support and raise money for cystic fibrosis, a congenital disorder.


With the largest Greek Community of any university in the west, University of Arizona fraternities and sororities are one option for incoming freshmen to make new friends and get involved on campus.

Panhellenic President Jennifer Gerth said Fall Rush is a good opportunity to meet people, even if a student decides not to join an organization.

"Just going through rush is a lot of fun because you make friends with the people who rush with you and then you see them in your classes," Gerth said.

Interfraternity Council President Troy Zien agreed that rush is a positive experience for incoming freshmen.

Zien said going through rush creates a bond with the other students and long-lasting friendships often develop, even if a person decides not join a fraternity.

He said fraternity rush is free with no obligation and a person can drop out at any time.

"A lot if people knock it, but they should consider it before making a decision," Zien said.

The UA has 23 fraternities and 13 sororities with about 4,000 members, close to 15 percent of the student population, and members hold more than half of all campus leadership positions.

The word rush is used to describe the Greek membership process because fraternity men used to "rush" to the train stations to greet incoming freshmen at the beginning of each school year.

Fraternity rush is a week-long process that starts Sept. 7 and ends Sept. 12. Students get a stamp card and are required to visit each fraternity, which holds dry parties throughout the week, he said.

In addition, students are encouraged to stop by the houses during the day when the fraternities provide lunch for the rushers.

He said it is a non-formal atmosphere and a no pressure situation.

"You go through and meet people and try to find the fraternity that is right for you," he said.

Fall rush for women, which starts Aug. 20, is much more organized and structured, Gerth said.

During the first two days of rush, students attend informal parties at each of the 13 sororities and mingle casually with the members, she said.

After they have visited each house, the women make a list of their eight favorite chapters and submit it to the committee.

On Aug. 23, the rushers wear casual attire and go to parties at the houses on their list. Then Aug. 24 is Theme Day, and rushers are encouraged to be a little more dressy for the evening, she said.

Finally, the women have Preference Night, when the women dress up in cocktail dresses and go to three houses. The next day is Bid Day, when the rushers find out which of the three chapters has chosen them.