By Jennifer Sterba
Arizona Summer Wildcat July 30, 1997

New UA club to 'promote the religious diversities on campus'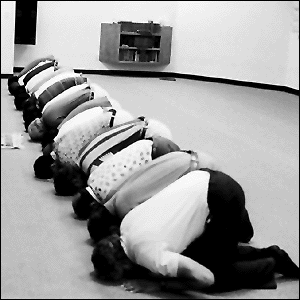 Dan Hoffman
Arizona Summer Wildcat


The UA offers diversity in all forms of nourishment, and not just the kind found in a student union or lecture hall.

"There is a wide range of dishes for students to choose from," said Rev. John Kautz, pastor of the Lutheran Campus Ministry at the Campus Christian Center.

Kautz is referring to the diversity of religion at the University of Arizona that offers students the opportunity to broaden their horizons.

Kautz is a member of the University Religious Council, which brings the many different faiths on campus together to encourage dialogue and respect between religious communities.

"The university sees us as an integral part of student services," Kautz said.

Rev. Allen Breckenridge, Episcopal minister and chair of the University Religious Council, said the council is supporting a new UA club this year.

The Religious Awareness and Diversity club, RAAD, will be established during the week of Sept. 22-26 and will involve various religious diversity activities, Breckenridge said.

Tables, panel discussions and some Native American dancing will take place on the UA Mall. Religious groups participating include the Bahai faith, the Muslim Student Association, the Campus Christian Center, and the Hillel Foundation.

"We're really trying to push diversity," Breckenridge said.

The club will promote the religious diversities on campus and encourage appreciation for the variety of faiths. The week will conclude with a vigil on the Mall, Breckenridge said.

Muhammad As'ad, a doctoral candidate in history, is the spokesperson for the Islamic Center of Tucson. As'ad said in the past the Muslim Students' Association has had a table just off the Mall where students could stop and ask questions or obtain brochure s on Islam.

As'ad, also a teacher of Islamic studies at Pima Community College, said he would like to see that effort continue. He said he receives lots of questions in his classes from students who - up until then - knew little or nothing about the Islamic faith.

"We have a variety of students who may not be aware of the diversity of religion on campus," As'ad said. "There is a curiosity among incoming students."

Many students come to the university with questions about their own faith as well others, Kautz said.

A major issue the religious council has discussed recently is the presence of several independent religious groups on campus. Kautz said the council does not want to limit religions on campus, but rather, know the people who are involved in them.

He said there are both healthy and unhealthy religious groups on campus.

To help determine the integrity of a group, Kautz encourages students to ask religious groups questions such as:
Do they allow freedom to ask questions or discuss views?

Do the students feel comfortable?

Do they feel vulnerable?
Many groups often prey upon vulnerable students who are feeling lonely or out of place and "attack" with the "right" answers, Kautz said.
He said unhealthy religious groups and Mall preachers give new students a bad impression of religion on campus. Because these are often some of the first encounters a new student has with campus religious groups, it reinforces a negative view of religion, he said.
Another important area for students to explore, is the balance between science and religion, Kautz said.
"Science is pushing theology into new realms," he said.
Kautz said it is scary to question theology, but it is important to be able to ask questions in a community of safety.