By Melissa N. Grangaard
Arizona Summer Wildcat July 30, 1997

Area restaurants are affordable, filling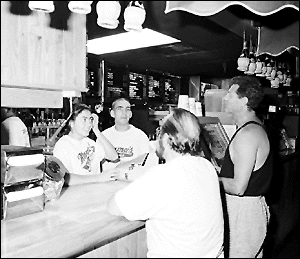 Dan Hoffman
Arizona Summer Wildcat

Mama's Pizza serves giant pizza slices and a variety of Italian food. Located just steps from the UA's main gate, Mama's is a popular stop for hungry college students.


If you are confused about where to venture for a quick bite to eat, have no car, and are getting low in cash, here is your solution. The university area offers a variety of restaurants with fast service, exceptional food and affordable prices.

Bison Witches Bar and Deli 740-1541 $$

This establishment, filled with an energetic staff and lively entertainment, is perfect for those on the run. Sit and listen to your favorite tunes while indulging in a sandwich. Bison Witches suggests you accompany any overflowing sandwich with fres h soup or a salad. The soup is served in a hot bread bowl and is a definite must. Stop in for lunch or dinner seven days a week.

326 N. Fourth Ave.

Bruegger's Bagels 325-4567 $

Baked fresh all day long with the highest quality ingredients is their motto. They offer 11 different varieties of kettle-boiled bagels from chocolate chip to sun-dried tomato. You can top any Bruegger's bagel with your favorite deli meat or choose f rom an assortment of specialty cream cheeses. The service is fast and friendly. Sip on a cup of there ground custom blended coffee, read the paper and relax.

1064 N. Campbell Ave.

Campbell at Speedway next to the Plaza Hotel.

Dirtbag's 326-2600 $$

Definitely the place to go for that big juicy afternoon burger you've been craving for since your arrival in Tucson. Dirtbag's is famous for their "dirtburgers," which are served with a bunch of dirtfries and potato or pasta salad. Dirtbag's also serves sandwiches hot or cold with a choice of assorted deli meats. For those with a smaller appetite they do have a menu that satisfies those lighter requests. The college atmosphere that awaits you when entering Dirtbag's is perfect for any occasion, whether a n after class snack, or weekend outing. Lively music and friendly people, great burgers and fries and close to campus. After 8 p.m. Dirtbag's is ages 21 & up only.

1800 E. Speedway Blvd.

Mama's Pizza 882-3993 $ -$$$

I found enormous, mouth watering pizza for the Italian lover with any appetite. Mama's Pizza right across from the UA's main gate has giant pizza slices for only $2.95 with more than 15 additional toppings including mushrooms and pineapple. You can also enjoy specialty pizzas, calzones, salads, pasta, or a Mama's Hero. Ending your appetizing meal with Mama's famous cheesecake is the way to go. Menu items baked to perfection make Mama's Pizza a local favorite.

831-F N. Park Ave.

Gentle Ben's Brewing Company 624-4177 $$

Just remolded, Gentle Ben's laid back atmosphere is open for lunch or dinner. Gentle Ben's house specialty sandwiches are served with pasta or potato salad, or cole slaw. Bite into an overflowing green salad, or sip on soup served with fresh bread. Ge ntle Ben's menu also includes their famous 1/3 lb. burgers with melted cheese if you desire. Save room for Ben's special dessert before you end your outing.

865 E. University Blvd.

Philly's Finest 623-7789 $

At Philly's Finest you can select from an all-American cheese burger, an item from the grill, or even an overstuffed hoagie on the cold side. The menu here at Philly's Finest is loaded with a variety of inexpensive, appetizing sandwiches. The next tim e you have that craving for a quick, but satisfying bite to eat - walk to Philly's.

942 E. University Blvd.

Geronimoz Restaurant and Bar 623-1711 $$

Bite into one of their specialty pizzas and pastas, or stuffed calzones to silence your rumbling stomach. Geronimoz' hefty 1/2 lb. burgers are char- broiled and cooked to your liking. All menu items can be served with their special homemade breadstick s, either baked or fried, dipped in honey. Meet your friends for a game of pool in the back of the restaurant or a quick meal. Serving lunch and dinner.

800 E. University Blvd.

Sausage Deli 623-8182 $$

Listen to Juke Box tunes and read your favorite magazine while indulging in your choice of Sausage Deli special submarine sandwiches. Sausage Deli is only minutes from campus and offers house specialties including an Italian grinder with Genoa salami, provolone cheese, pastrami and more. These unique sandwiches can be served on either an onion or Kaiser 10" submarine roll. All lunch specials are served with potato chips and choice of Cole slaw, potato or macaroni salad. The huge menu at Sausage Deli served during lunch and dinner allows you to enjoy a salad or submarine sandwich anytime of day.

2334 N. First Ave.

DJ's Pizza Pub and Grill $$

Come watch the Wildcats on the big screen at DJ's. Sip on an ice cold beverage while relaxing and enjoy a meal picked from a variety of DJ's specialties. Create your own or pick from any fresh baked DJ's style pizza. Offering many additional meats and f resh vegetables you can enjoy a pizza just the way you like. Satisfy your hunger pains with a salad, or a deli sandwich served hot or cold on an 8" roll. Start off your DJ's experience with their famous jumbo buffalo wings served mild, medium, or hot. Ope n from 11 a.m. to 11 p.m. seven days a week.

2962 N. Campbell Ave.

Baggin's 327-4342 $$

Make your own sandwich Monday through Saturday at Baggin's. All Baggin's creations are made from their own recipes and fixed fresh daily. Pick a specialty sandwich or try the popular Navajo chicken sandwich from the grill. Baggin's lively country atmosphe re and convenience to students around campus is perfect if you are looking for that over stuffed gourmet sandwich and chocolate chip cookie.

2741 E. Speedway Blvd.

Brooklyn Pizza 622-6868 $-$$$

Whether you're craving an appetizing 16" large whole pizza pie or pepperoni by the slice, Brooklyn Pizza is good place to satisfy these demands. Brooklyn Pizza offers a variety of additional add-on toppings to compliment any size pizza. Menu items also i nclude salads, calzones, and heros. Enjoy a cheese slice and fountain soda for only $1.87.

534 N. Fourth Ave.

Magpies Gourmet Pizza 628-1661 $$

Voted best gourmet pizza in Tucson for the past eight years by the readers of Tucson Weekly magazine. Magpies' menu consists of New York-style pizza, magpies lite "r" pizzas, specialty pizzas and calzones. Magpies is the only pizza establishment that give s you the chance to take and bake your pizza at home. Create your own "Mag"nificent pizza right around the corner from campus on Fourth Avenue. The hot, fresh gourmet pizzas are made with distinctive dough and sensational sauces. Available for dine in or carry out.

At the corner of Fourth Avenue and Fifth Street

El Charro 622-1922 $$$

El Charro is proud to be celebrating their 75th anniversary at their original establishment, minutes away from campus in downtown Tucson. At El Charro the cultural atmosphere and fun, friendly service will make your experience worthwhile. A must is El Cha rro's combinaciones de carne seca served with pan fried carne seca, rice and beans. El Charro opens at 11:30 a.m. and offers lunch specials for only $4.99 during the week. Choose from beef tacos or chicken enchiladas and come see why Tucson Weekly voted El Charro the best Mexican food in Tucson (1996).

311 N. Court Ave.

New York Burrito Gourmet Wraps 795-7859 $$

This establishment is well-known for their huge, gourmet wraps filled with whatever you desire. Pick from shrimp, shredded beef, pastrami, teriyaki chicken and many more meats, black beans, peppers and Spanish rice. At New York Burrito you can enjoy a tra ditional "smothered" burrito or a marinated mini wrap for those with a lighter appetite.

2968 N. Campbell Ave.