By Jason A. Vrtis
Arizona Summer Wildcat July 30, 1997

Women's soccer team is optimistic about future goals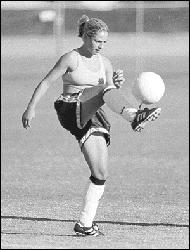 Arizona Summer Wildcat

Wildcat forward Nikki Jones juggles a ball a during practice session last year. Coaches are depending on Jones to lead the team's offensive attack this season.


Heading into its fourth year of NCAA Division I play, the UA women's soccer team has experienced its share of frustration, but the squad remains optimistic it can turn things around and be a factor in the upcoming Pac-10 season.

After finishing 5-13-1 last season and last in the Pacific 10 Conference, the Wildcats hope to improve with a mixture of key veterans and a crew of 14 talented freshmen and sophomores.

Arizona returns six starters from last year's squad and eight of last year's top-10 scorers, but it will have trouble coping with the losses of Christine Keeley and Jen Weibel to graduation.

Keeley leaves as the University of Arizona's career leading scorer and Weibel was a solid three-year starter at goalkeeper.

This year the Wildcats will start an incoming freshman in goal, Inger Airheart, and junior forward Nikki Jones, last year's leading scorer with 17 points, will be looked upon to shoulder much of the scoring load.

"We are a very youthful team, but the players bring a lot of experience from the club and high school levels," said assistant head coach Jen Netherwood.

Along with Jones, 1996 UA rookie of the year Megan Canaday will lead the attack for the Wildcats.

Canaday, a sophomore forward, was the team's fourth leading scorer a year ago tallying two goals and three assists. Arizona's strength this year could come from the mid-field. The Wildcats have great depth with seven players ready to contribute this seaso n. The mid-field will be led by sophomore Sara Field and senior Emily Bumps. Field set a single-season assist record last year with six and Bumps, one of only three seniors on the team, should provide a lot of leadership from the mid-field as she is one o f the squad's co-captains.

The biggest question mark for the upcoming season could be at defense - after the loss of four starting defenders - but head coach Lisa Fraser does not see it that way.

"Our defense is better. Melissa (Kessler), Jen (Ginsberg) and Kate (Mattson) played together all spring and have more experience now," said Fraser, who started the program in 1994 after establishing a successful program at Washington State.

Ginsberg, a senior defender, is the only returning starter for the Wildcats' defense and helped Arizona to a school record of four shutouts last year.

"Jen plays with a high level of intensity and leads by example. She should be a great leader for us," Netherwood said.

"Our chemistry is better now than it has ever been. We've just grown as a team and played together longer," Ginsberg said. "The maturity level has risen well and everybody seems to understand their roles better," she said.

Netherwood said the team has used the spring and summer to work on scoring and ball control, two areas that plagued them last year.

With every Pac-10 school fielding a team this season, the Wildcats hope to improve on their 0-7 record in league play, but that could prove to be a tough test for Arizona as Pac-10 opponents continue to improve.

"The Pac-10 is one of the strongest soccer conferences in the country," Fraser said. "Our schedule is a good mix of regionally ranked and young teams this year."

The Wildcats will have the advantage of playing in front of the hometown fans for 12 of its 20 scheduled matches. Arizona plays Arizona State in its home opener Sept. 5. at Murphey Stadium, located at the corner of South Plumer Avenue and East Fifteenth S treet.

The Wildcats start their season on the road at Arkansas on Aug. 30 and then go onto Tulsa on Sept. 1.