By Seth Doria
Arizona Summer Wildcat July 30, 1997

Football looks to revive days of Desert Swarm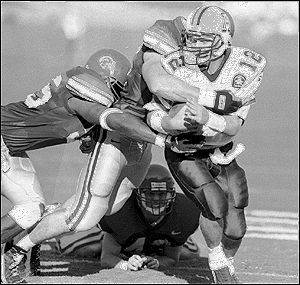 Arizona Summer Wildcat

University of Arizona quarterback Keith Smith tries to elude tacklers in a game against Southern California last season. After finishing the year at 5-6, Smith and the Wildcats hope to turn things around this year. The team opens its season Sept. 4, at O regon.


A couple of years ago, if you were talking about football at the University of Arizona, you were talking about defense.

But the days of the nationally feared "Desert Swarm" defense ended last year when the team gave up an astounding 25 points and 385 yards per contest, including a 56-14 rout at the hands of Arizona State in last season's finale.

So going into this season, the Arizona coaching staff is searching for a way to bring back the glory days of Arizona defense.

The first move was to replace defensive coordinator Larry Mac Duff, now a special teams coach for the New York Giants, with former UA coach Rich Ellerson who helped create the original "Desert Swarm" defense in the early 1990s.

Ellerson, who coached at Southern Utah last year, said he believes that Arizona can regain the reputation of having one of college football's stingiest defenses - if the Cats can stay healthy.

In an earlier interview with the Arizona Daily Wildcat, Ellerson said: "The biggest thing is remaining healthy, especially in the defensive front. You can't overemphasize what that means."

Injury problems plagued Arizona's defense last season, with defensive linemen Joe Salave'a, Mike Szlauko and Daniel Greer all missing action.

But with the front line healthy, Ellerson said he expects the team to atone for last year's performance.

"What happened last year was painful for all of us. It was personal," he said.

The Wildcat defense received good news when Salave'a was given another year of eligibility under a new rule passed this spring by the NCAA.

The rule states if a player graduates within four years of enrollment, and has played fewer than four seasons, the player is granted an extra season's eligibility.

Salave'a, who graduated in May with a degree in sociology, did not receive a scholarship or play his freshman year in 1993 while he was gaining residency.

"Having him gives us a dominant interior offensive lineman" to protect against the run, Ellerson said.

Ellerson said he hoped Salave'a, Greer and linebacker Jimmy Sprotte give this season's defense the same attitude as the Desert Swarm defenses of the past.

"We have to think positive," he said.

If the defensive front can stay healthy, Ellerson said, everything will be easier for the secondary, which is led by returning starters Kelly Malveaux and David Fipp, along with senior Rashee Johnson. Johnson started every game in 1995 but missed last sea son due to personal reasons.

Starting safety Mikal Smith and reserve cornerback Leland Gayles were suspended earlier this summer in connection with an alleged book selling scam, and cornerback Chris McAlister may miss time due to academic problems.

If Smith or McAlister does miss time, Johnson and sophomore Kelvin Hunter will be ready to take their places.

Head Coach Dick Tomey told Cat Tracks, a local weekly magazine, he was particularly impressed with Johnson during spring practices.

"Rashee, when he has been out here, has been very consistent. He has great versatility," he said.

Ellerson said he also plans to expand Arizona's defensive system so that opposing teams will not be able to fully prepare.

"We have to be more diverse and add a few more wrinkles," he said.

On offense, the Wildcats hope to continue the play that led them to score almost 30 points per game, including scoring 55 points in a triple overtime loss at California.

The biggest question on offense will be at running back after the graduation of last year's starter Gary Taylor.

Leon Callen was scheduled to take over as the featured back, but he tore his anterior cruciate ligament in his right knee during spring practices.

In place of Callen, sophomore Trung Canidate and senior Kevin Schmidtke, are expected to fill the void. Canidate, out of Central High School in Phoenix, surprised coaches during a spring scrimmage when he ran for 68 yards on only 13 carries.

"When he gets going he's hard to stop. He is an explosive athlete," Ellerson said.

At fullback, expect Charles Myles and Kelvin Eafon to share the load.

"If you try to arm tackle Charles, he'll rip your arm off," Ellerson said.

Another question for the Wildcats will be along the offensive line.

With Frank Middleton gone to the Tampa Bay Buccaneers, Arizona is left with only right tackle Jose Portilla as an experienced returning starter.

Portilla will be joined by Yusuf Scott at right guard, Rusty James at center, Ryan Turley at left tackle and junior college transfer Edwin Mulitalo at left guard.

When Matt Peyton graduated, the Wildcats lost both their place kicker and their punter.

Coming out of spring practice, Ellerson said that junior T.J. Rodriguez is the leader at kicker and that junior college transfer Ryan Springston is going to handle the punting duties.

Springston, a junior college All-American with Butler County College in El Dorado, Kansas, has impressed coaches with his power, including a 64-yard punt on his first kick during the spring scrimmage.

The Wildcats went winless on the road last season for only the second time in its 19 years in the Pacific 10 Conference, a trend they hope does not continue this season.

With three out of the first four games on the road, at Oregon, Ohio State and UCLA, Arizona has their work cut out for them.

This year, the Cats want to get off to a good start in what promises to be a tough Pac-10 race.

Washington, which will play the Cats in Tucson on October 18, is the favorite to head to the Rose Bowl at the end of the season. Inside Sports magazine has ranked the Huskies number one in the nation in their football preview.

The magazine ranked Arizona 23rd nationally, and second in the Pac-10.

The Wildcats open their home schedule on September 13 against the University of Alabama - Birmingham. After the road games against the Buckeyes and the Bruins, Arizona plays five of the next six games at home, before ending the season at ASU on November 2 8.