By Darin Stone


Arizona Daily Wildcat

January 17, 1997



Arizona Daily Wildcat

The Sun Tran transit system is increased its fares Jan. 1. This increase will affect members of the university community who use Sun Tran to get to campus.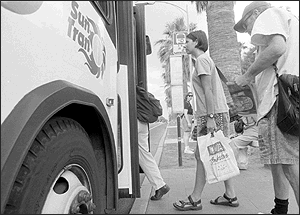 Rising operating costs drive up Sun Tran fares
Sun Tran, the Tucson area's transit system, has increased its fares in hopes of providing better operating services.

The fare increases, which began Jan. 1, will affect approximately 60,000 passengers per week, said Roberta Nichols, Sun Tran's public relations director.

She said fares were increased due to increased operating costs. Fares were last increased in July 1994.

"Operating expenses continue to go up so in order to maintain high quality services," Nichols said. "Fares needed to be raised."

She said fares for University of Arizona students using the U-Pass will increase from last semester's cost of $40 per passenger. The actual cost of the pass will increase to $90 per semester, but Nichols said the cost to students will depend on how much the UA plans to subsidize.

Before fares were increased, the actual cost of the U-Pass was $83, $43 of which was subsidized by the university.

Last year, 4,195 students purchased the U-Pass, but Nichols said many UA students bought monthly passes or paid in cash.

Jeff Kepple, undeclared junior, said the rise in bus fares will not deter him from riding Sun Tran.

"I'll just pay (the fare)," Kepple said.

"If they need to raise the fare because (Sun Tran) is not making ends meet, then that's OK."

Nichols said she expects a drop in the number of passengers riding the bus system as a result of increased fares. She said that normally there is a 2 percent drop in ridership when fares are increased, but the difference is normally regained within 18 months.