By Kevin Clerici


Arizona Daily Wildcat

January 17, 1997


Adam F. Jarrold
Arizona Daily Wildcat

UA junior forward Adia Barnes is swarmed by Southern Cal players as she tries to put up a shot in the Wildcats 87-72 loss last night at McKale Center. Barnes finished with 18 points to lead the Wildcats. Arizona hosts UCLA on Saturday at 3 p.m. at the McKale Center.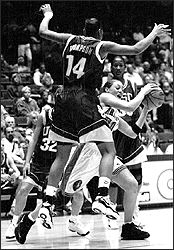 USC outshoots Arizona women
Just as Southern Cal started to heat up, Arizona went cold.

Outscoring the Wildcats 18-4 in the final five minutes, the women of Troy easily won 87-72 in front 1,427 fans at the McKale Center last night.

"We need to play a 40 minute ball-game, our intensity just didn't last tonight," Arizona head coach Joan Bonvicini said.

Too many turnovers and poor shooting (39 percent in the second half) down the stretch hurt Arizona in what was a close game until the finish.

"I think USC really picked up their game and we made mental mistakes," Arizona junior Mikko Giordano said.

What made the loss hurt even more was that the Wildcats (12-3 overall, 2-2 in the Pacific 10 Conference) jumped out to a good start.

USC's (10-4, 4-1) best player and Naismith Player of the Year candidate, Tina Thompson was on the bench feeling ill and Arizona was leading at one point, 25-15. Arizona center Marte Alexander was controlling the inside in Thompson's absence. Then Alexande r got her second foul six minutes into the game and USC's Kristin Clark couldn't miss from three-point range. She finished the first half five-for-five from three-point land and was the game's leading scorer with 25 points. Her previous career high was 10 .

"Kristin set the tone offensively and defensively, she really picked up her game," USC head coach Fred Williams said. "It showed me something about our team. We kept our poise and that was the key."

Arizona's Adia Barnes had 18 points and seven rebounds and Griffith added 14.

"She (Clark) was on fire, to let other people go off like that hurts," Bonvicini said.

Clark wasn't the only player shooting well for USC, the team shot 70 percent from three-point range. With several players over six-feet tall on the USC squad, Arizona was crammed on the inside.

"We did a good job of forcing them to take shots from the perimeter, but then they made them. That is tough to defend," Bonvicini said.

Thompson eventually went into the game midway through the first half and showed why she is one of the country's elite. She claimed a double-double with 25 points and 14 rebounds and put defensive pressure on Barnes that caused problems.

"I think it was a combination of me not getting open and their defense making us make bad decisions," Barnes said.

Leading up to the game, Bonvicini talked about making sure her team rebounded well. They did, out-rebounding USC 40-38.

"We didn't convert the rebounds we got, though. 19 offensive rebounds, that's a lot," Bonvicini said.

Mikko Giordano and Jacque Barrington gave Arizona a lift off the bench in the second half with Alexander out for most of the game. However, the end was all Trojans.

"We stopped attacking and did not play intelligent (ball) down the stretch," Bonvicini said.

The foul line was also a big factor, with Arizona only getting nine attempts from the charity stripe compared to USC's 26, of which they made 19.

"I don't want to make excuses. USC played extremely well, but we let down on our intensity, and that bothers me," Bonvicini said.

The Wildcats will host UCLA on Saturday at 3 p.m. at McKale Center.

"This team is definitely going to come out against UCLA and show the character that this team has," Bonvicini said.