By Shoshana Burrus


Arizona Daily Wildcat

January 17, 1997


Tanith L. Balaban
Arizona Daily Wildcat

Senior forward Brian Consolino hopes to help the 3rd-ranked Icecats skate past 20th-ranked Navy at 7:30 at the Tucson Cenvention Center.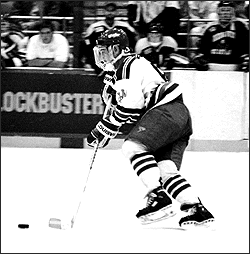 Icecats hope Knick will return against Navy
The big question for the Arizona Icecats this weekend is whether or not injured forward Andy Knick will play.

After suffering a severe concussion last Friday night against Kent University, the sophomore still remains questionable for tonight's game versus the 20th-ranked Navy Midshipmen.

The Icecats and the Midshipmen face-off tonight and tomorrow at 7:30 at the Tucson Convention Center.

"Knick is still a question," Icecat coach Leo Golembiewski said. "His equilibrium is still off. Without him, two of our lines will have a huge hole in them."

Center Brian Consolino felt that the team must be prepared to be without Knick's intensity.

"We have to get everyone sparked, even if we don't have him," Consolino said. "He seems fine, but he's had a headache here and there."

Golembiewski said the lines will just have to adjust.

"He's (Knick) one of our top players," Golembiewski said.

The third-ranked Icecats have proved that they can win without Knick, offensively hammering Kent, 11-2 last Saturday night.

However, Golembiewski said that they expect Navy to be a better team than Kent.

"They're one of the stronger teams in the Eastern Collegiate Conference," he said. "They are physical and big."

Consolino and Golembiewski both said that mental preparation is key.

"We're concerned about the mental aspect and intensity aspect of our team," Golembiewski said.

Navy (5-5) has only beaten the Icecats once in the six game history. Resulting in a berth in the national tournament.

The Icecats are also concerned about nationals going into this weekends' games.

"We've got to maintain a good record at home if we want to have a good seed in the tournament," Golembiewski said.

Since the Icecats go on a seven-game road trip starting Thursday, Golembiewski knows the importance of getting off to a good start.

"We're in the dog-days of the season," Golembiewski said. "It's important for us to keep the ball rolling to maintain a good record."

The Icecats won't have to travel far for their first road game, playing the 9th-ranked Arizona State Ice Devils at Oceanside Arena in Scottsdale.

Following that, the Icecats will face No. 2 Ohio University for a two-game match-up on January 25 and 27 in Athens, Ohio.

"These games are extremely important for us, especially since we go on the road next week," Golembiewski said. "They're (Navy) a fun team to play because they're disciplined."