By Kristen Davis


Arizona Daily Wildcat

January 17, 1997



Arizona Daily Wildcat

Junior All-American Vicky Maes has dropped in the national rankings due to an arm injury.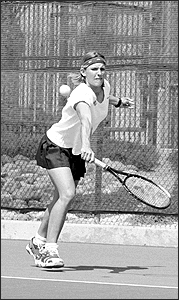 Women's tennis opens in Seattle
The fifth-ranked Arizona women's tennis team has already experienced a few surprises early in the season.

Arizona lost last season's No. 3 player, Betsy Miringoff, a junior from San Diego, Calif., who quit the team late last fall.

In addition, the team added Anne-Laurence Bilenne, a freshman from Belgium, to their roster over the holiday break.

Bilenne will pair up with junior Vicky Maes in her first tournament as a Wildcat in the doubles competition this weekend when the team travels to Seattle, Wash. for the fifth annual Pacific 10 Conference Indoor Championships.

Maes', an All-American, had her ranking fell from No. 1 to No. 7 after struggling through the preseason with arm problems.

She was given a shot of cortisone in her arm before the semester break and spent the holiday vacation away from the tennis courts.

Maes, who is tied with Stanford's Katie Schlukebir for the No. 7 ranking nationally, is the tournament's No. 2 seed behind UCLA's Katie Kocsis. Schlukebir and Cardinal teammate Sandra DeSilva are the No. 3 and 4 tournament seeds, respectively.

Kocsis will bring the Bruins their fourth consecutive singles title if she wins the championship on Sunday.

The tournament, which will give head coach Becky Bell an idea how Arizona's recent changes will affect them, will be played in the Nordstrom Tennis Center.

The preliminary singles and doubles matches began last night. Results from the preliminaries were not available at press time. Tournament play, which begins today and continues until Sunday, includes six of the top 20 teams in the nation.

No. 2 Stanford dominates the field with a roster that features three players who are ranked among the nation's top 20 singles players.

No. 7 UCLA, No. 16 Arizona State, No. 18 California and No. 19 Southern Cal round out the competition.

The singles competition consists of 54 players, twelve of whom are ranked among the nation's top 40 singles players.

In addition to Maes, Arizona's individually-ranked players include No. 32, sophomore Karen Goldstein, and No. 66, senior Stephanie Sammaritano.

The players have been divided into three flights for the singles competition.

Maes is matched against Oregon's Andrea Petrovic and Goldstein will battle Stanford's DeSilva in the first flight of singles this afternoon.

Sammaritano is playing against USC's Nicole London and Arizona senior Khristen Pietrucha will go against Oregon's Ali Napier later in the second singles flight.

The third flight, which will also be played today, features UA sophomore Monique Allegre against Washington State's Carolina Ferrandez and Bilenne will match up with ASU's Torey Pratt.

The doubles competition begins tonight and is broken up into three flights as well.

In addition to Maes and Bilenne, who are playing Oregon's Napier and Alison Sosnow in the first flight of doubles, Sammaritano and Goldstein will play in the second flight against Washington's Zeta Wagner and Peggy Wu.

Sammaritano and Goldstein are ranked nationally as the No. 16 doubles team.

The third flight consists of Allegre and Pietrucha, who are set to compete against Cal's Emeka Mayes and Lisa Swierniak.