By Michelle J. Jones
Arizona Daily Wildcat January 22, 1997

Free exercise classes and clinics pump up Fitness Week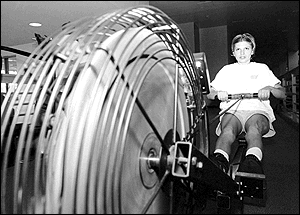 Kristy Mangos
Arizona Daily Wildcat

Jessica Amaral, undeclared freshman, exercises on a rowing machine yesterday at the Student Recreation Center. This week is Fitness Week at the Rec Center, which includes free aerobic classes and other fitness activities and advising.


The Student Recreation Center is sponsoring UA Fitness Week to help students who may have put on a few holiday pounds get back on track.

The weeks' activities will include: free fitness classes, experts on the University of Arizona Mall to answer questions, and a basketball tournament.

Students can participate today in a beginning yoga class, a physical therapy clinic and a mass fitness class at the Rec Center.

There will also be a booth on the Mall tomorrow from 11 a.m. until 2 p.m. with physical therapists, massage therapists, free body composition analysis and information on sports clubs.

The Rec Center is also putting on a stationary triathlon, which takes place in the center's pool, on stationary bikes and on the indoor track.

Friday, the Rec Center will host a two-day-long Martin Luther King Jr. basketball tournament and fitness fair.

The stationary triathlon and the estimated time run require advanced registration and a $5 entry fee.

Jessica DiStefano, anthropology freshman, said the free fitness classes and other activities certainly cannot hurt the Rec Center's business. Instead, she said it will probably get more students to start going on a regular basis.

"College students are notorious for taking anything that's free," DiStefano said.

DiStefano also noted that the booth on the Mall will probably generate more student interest because the Rec Center is a farther walk.