By Alicia A. Caldwell
Arizona Daily Wildcat January 27, 1997

UA classes going on-line to help students with classes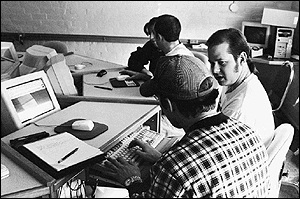 Tanith L. Balaban
Arizona Daily Wildcat

Some teachers are now having students use the internet as an aide to help them learn class material. Marc Schiavo, (left) communication senior and Timothy Miller, an interdisciplinary studies senior look up information Friday in the Communications Buildi ng.


More students will be asked to visit the information superhighway for their classes as a program design by a UA faculty member is used in the discussion sections of many courses.

Professor Sally Jackson, acting head of the communication department, has developed an Internet tool called Polis, which is available via the University of Arizona's site on the World Wide Web.

The program, as it is used in the communication department, allows students to answer questions pertaining to the subjects being discussed in class. After students have answered, a "model" answer appears, as well as their classmates' responses.

"It is a very interactive tool for classes to use," Jackson said.

According to Jackson, the program has been up and running since the beginning of the fall semester and, in her opinion, has been a success.

Jackson sees this tool and others like it as an aid to learning that will actually improve a student's performance in a given class.

"This has practically guaranteed that everyone will understand the basic concepts of the class," Jackson said.

Jackson noticed improvements in her classes that are now using the online tool.

"I have been teaching (Communication) 280 for five years now and there has been a steady progression that has resulted in the lecture with an online discussion," said Jackson.

Other instructors said they have also seen positive results from this online tool.

Carol Chang, a communication graduate teaching assistant, hopes that the program will aid in classroom discussions.

"I'm hoping that it will encourage students to ask more questions in class," said Chang.

There are currently 34 classes from various departments that are registered to use Polis.

The Communication Department has also begun to post electronic mail notices to communication majors regarding class availability and other information.

In addition to the Polis program, Soil and Water Resources Professor Roger Caldwell has developed an alternative to the once widely used COSY or ICOSY conferencing systems.

The new conferencing system is called CAUCUS and has many advantages over the 10-year-old COSY systems, Caldwell said.

"ICSOY was 10-years-old and CAUCUS is new and modern; this is newer and better and far easier to people to use," he said.

The system is available for students and classes this semester. To access CAUCUS, students must telnet to caucus.arizona.edu.

This new conferencing system is available to any student, staff or faculty member on campus. In addition, once a student has registered in the CAUCUS system, they are registered for the duration of the academic year.

"Any student with a university e-mail account can register for CAUCUS by using their e-mail name and password," Caldwell said.

Both of these programs are always being revised and according to Jackson there are efforts to exchange programs such as these with other universities.