By Courtney Erin Ozer
Arizona Daily Wildcat January 27, 1997

Registers change in Union restaurants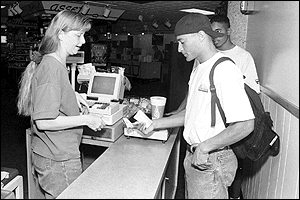 Ryan A. Mihalyi
Arizona Daily Wildcat

Kyle Dorsey, accounting and finance senior, pays Fiddlee Fig cashier Carol Flaherty for his lunch Friday. Some of the resturants in the Memorial Student Union have installed new cash registers so they can track purchases easier.


New cash registers are changing the way several restaurants in the Memorial Student Union are doing business.

The new cash registers will not speed up the movement of the lines, but they will help the restaurants retrieve information and create reports more accurately, said Mike Low, associate director of the Arizona Student Unions.

The new registers were installed to prevent the possibility of "major problems moving people through the lines," said Jerry Groch, cash operations manager for Student Union Dining Services.

"I don't think the customer will notice the difference," Low said, in reference to the speed of the lines in the Union.

"They will give the restaurants the ability to better analyze business, though."

Groch said the new registers have already been installed in the Fiddlee Fig, Cafe Sonora, the Sidewalk Deli, and the "A" Place. He also said the rest of the vendors in the Union will have the new cash registers by the end of this month.

The new registers were first in place on Jan. 13, Low said.

Groch said equipment problems over break postponed the complete installation of the registers in the first few restaurants.

Similar cash registers will be installed in the UA Associated Students Bookstore in time for the first summer rush, said B.J. Tietjen, support systems analyst for the bookstore. The system will be a completely separate from the one in the Union, but is al so being used for efficiency purposes.

Tietjen said the registers will be in the bookstore June 3.

Wildcat Gifts Etc., McKale Sports Stop, and the Medical Bookstore should also be getting the new registers in the first weeks of June.