By Michael Eilers
Arizona Daily Wildcat January 30, 1997

'Eclipse' casts a shadow over Museum of Art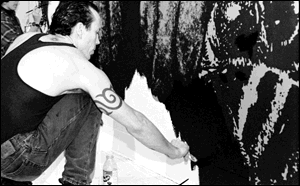 Tanith L. Balaban
Arizona Daily Wildcat

Cliff Benjamin


Cliff Benjamin's installation "Eclipse" is art on a colossal scale. Taking over all four walls of the UA Museum of Art's South gallery, his floor-to-ceiling murals are dense, imposing, and richly detailed.

Working with a constrained palette of blacks, greys, and deep blood-red, Benjamin's murals take everyday objects (hands, feet, a face) and blow them up to outrageous proportions. The resulting illustrations place you both in awe of their scale and freshly aware of their detail and structure.

The Russian Formalists have a name for this condition: estrannoi, literally, "to make strange." When an everyday structure such as an outstretched palm becomes wall-size, it is made strange-a familliar object you see every day becomes a monstrous appirit ion, open to new interpretations.

Cliff is used to working on this scale, having done such pieces for the last three years. An LA artist, he has done installations in Seattle, San Francisco, Berlin and Rome.

A solo artist since 1982, he also works in pencil and charcoal on paper. These sketches and illustrations become source material for his wall-size pieces.

Seemingly inspired by the sketchy, monochromatic look of "photocopy art" and 'zine illustrations, Benjamin's room-sized collages feature a tight meshing of symbolism and design. By overlapping simple, disparate elements, he creates arrangements that are c omplex and ambiguous. They are also immobile, and temporal, as the Museum will simply paint over them when the exhibition's time is up.

One of the most striking features of the panorama is a pair of hands, outstretched in a gesture denoting peace, or perhaps supplication. One palm is darker than the other, suggesting the biblical idea of one hand not knowing what the other is up to. They are surrounded by a collage of bees, another ambiguous image: bees produce honey, yet can deliver a painful sting.

It sounds trite, but having such a fundamentally human object jerked out of its natural context is eerie. The giant human foot underneath a stylized solar eclipse, sketched out in glowing red, is both absurd and thought-provoking. Its association with the eclipse raises the spectre of the temporal nature of flesh, and the way astronomical events take place with utter disregard for human concerns. Another wall features a human face with images of comets and stars-objects we have no control over, yet that w e have read as omens and indicators of our fortunes since the dawn of civilization.

The final effect of Benjamin's installation is that of standing inside a massive graphic novel. A collosal narrative takes place on the walls, rich with meanings just below the surface and ripe for interpretation. By enlarging his pieces he in effect make s the viewer small, forcing us to consider the relationships between everday objects and ourselves. This immersive experience, custom-crafted to fit the walls of the museum, is well worth attention.

"Eclipse" is showing through March in the South gallery of the Museum of Art, open from 10-5 weekdays and 11-5 Sundays. The show opens Friday from 5:30-7 pm. Call 621-7567 for more info.