By Robert O'Brien
Arizona Daily Wildcat January 30, 1997

Sober beyond wildest truth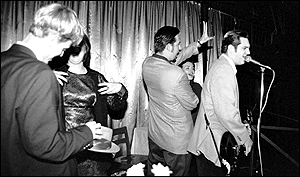 Robert H. Becker
Arizona Daily Wildcat

Carl Marcum and Stephanie Murray of the Drunken Word Poets


Are you one of the people who call it a film instead of a movie? Are you the proud owner of a halogen torchiere lamp? No? Either way, you might want to get out to "The Cheap Truth Highball Hour," a recent innovation of The Drunken Word Poets, presented ev ery other Saturday, at Club Congress at 8 p.m.

The Drunken Word crew is comprised of (aptly named!) host (and Wildcat writer) Tom Collins, Erin Whitfield, "Smoking Goddess" (and UA student) Stephanie Murray, Carl Marcum (also a UA student) and sometime musician "Stumpy Joe" Guyro.

Says Murray, "We came together out of the open mic scene around town, wishing to get to a more cohesive style of reading." Whitfield opined that "the Tucson (poetry) scene is far from consistent quality ... it can be rather sterile."

My take on the "typical" open mic is that, rather than sterile, it can often show you more whining angst than heartfelt energy. Once you've seen a few guys who sound like Rod McKuen and a few who roll around and scream, they can obliterate the message wit h the medium.

Thankfully, this is not the case at this event. A common sight for "poetry night" is the generic cafe setting. Poets on espresso tend to be, well, EDGY. (I'll leave the Cornholio connection to you.) Poets (and spectators) on, say, Scotch on the rocks are a bit more mellow. The reading takes on a certain Rat Pack flavor. Multiple references to Frank Sinatra, slick hair, suits and all, it's markedly different than expected.

The subject matter of the poetry? Along similar themes of despair at times, but with an ironic twist. Poets who know how to laugh at themselves - what a concept! From Collins' twangy "Scarsdale Diet Blues" to the loopy conclusion (a medley of Yes tunes an d the "Facts of Life" theme), the interspersed music helps add humor to the colorful imagery.

Marcum's "Hobo Beatnik in a Bourbon Rage" seems to gaze on the passing traffic, saying a quick prayer to Whitfield's "Saint Impala, the patron saint of cars which have no business running." Of course, there are the obligatory tales of love and woe ("Bitch Rant" and "Girl Poem," what else?).

The lunacy of the Redneck Rap makes cynical commentary of pop music - in a language anyone could understand!

The next scheduled performance is Feb.8 ... so "Stop talkin' and start stalkin!" as Tom Collins mused. Head down there and swallow "a cocktail of hubris and penance." Perhaps you too might see "Angels with people pins."

Booze and words are rather less mutually exclusive than you might imagine. Useless of the day:

The ailing Mr. Sinatra did, after all, record an album of Rod McKuen songs: A Man Alone. Look it up.