By Joel Flom
Arizona Daily Wildcat February 7, 1997

Fullerton rocks UA pitchers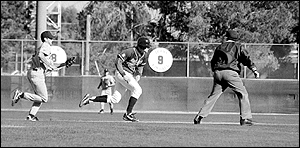 Katherine K. Gardiner
Arizona Daily Wildcat

Junior right fielder Colin Porter scrambles back to second base after an attempted steal yesterday against Cal State-Fullerton at Sancet Field. Arizona lost to the Titans 23-13.


The way the game started, it looked like it would be a one-sided win for Arizona.

Oh, how things can change in college baseball.

After the Wildcats jumped ahead to an early 9-2 lead after two innings, Cal State Fullerton took control of the game, using a 10-run fourth inning to cruise to a 23-13 victory.

The Titans (3-2) tagged the Wildcats (5-3) for 24 hits en route to victory at Sancet Field.

Arizona scored eight runs off of eight hits in the bottom of the third, sending 13 batters to the plate. Freshman center fielder Keith Regina and junior left fielder Jason Hendricks each connected for three-run home runs off of Titan starting pitcher John Alkire.

After the Hendricks blast, Cal State went to the bullpen and brought in freshman Mike Garner (1-0). After starting pretty shaky, Garner settled down and started putting Wildcat hitters down.

"After the 9-2 lead, we were pretty fired up," UA head coach Jerry Stitt said. "That's when you have to rely on your pitching and defense to put up a zero for you. They didn't do it."

The pitchers could not get the outs and the batters could not get the hits.

"When I first went in I was pretty nervous," Garner said. "The team picked me up and helped me."

Garner went 5 1/3 innings to earn the win in his relief appearance. He struck out eight while allowing four hits, five walks and five runs, four earned.

Come the fourth inning it was the Titans turn to have the big inning. Starting sophomore pitchers Darrell Hussman (1-1) and Tyler Haddix combined to give up 10 runs off of seven hits and four walks. The Titans were lead that inning by left fielder Steve C hatham, who smacked two doubles and had three RBI.

"It's a concern for me that Darrell didn't throw strikes," Stitt said. "He's our number one guy and he has to go out there and compete. The only way he is going to be able to compete is if he throws strikes."

Also leading the Titan barrage of runs was third baseman Mike Lamb. Lamb finished the day 4-6, with five runs, three RBI and two solo home runs.

Despite the loss, Stitt felt that the team did do some things right in the game.

"We swung the bats real well, except (for) the lull in the middle when the left-hander (Garner) came in," Stitt said. "The positive is that we played good defense."

Arizona was able to get a big day from senior designated hitter Jeff Gjerde. He went 2-4 with three RBI and two runs scored. He connected for a two run homer in the sixth off Garner.

The Wildcats and Titans will hook up for the second game of the series today at 2:30. The series concludes tomorrow.

"I don't discourage easily," Stitt said. "I don't disappoint easily, either."

The All-Pro Alumni game will be played Sunday at 1 p.m. Minnesota Twin Paul Molitor is the guest manager and Terry Francona, a UA grad and current manager of the Philadelphia Phillies, will have his number retired before the game.