By Sam Spiller
Arizona Daily Wildcat February 7, 1997

Softball starts defense of national championship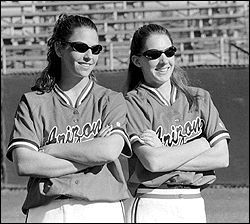 Karen C. Tully
Arizona Daily Wildcat

The future is so bright for Arizona softball that sophomores Lisa Pitt, left, and Michelle Churnock have to wear shades. The Wildcats start defense of their national championship today at1 p.m. at Hillenbrand Stadium.


There are schools throughout the country whose programs dominate in their particular sport. In softball, that program is Arizona.

For the defending national-champion Wildcats, there was good news and bad news following last season. The bad news was College World Series Most Valuable Player and National Player of the Year Jenny Dalton and All-American Krista Gomez were graduating. Th e good news was the return of no less than six All-Americans, two All-Pacific 10 Conference players and an All-CWS player.

"Krista Gomez and Jenny Dalton were great players because they did the job when they had to do it," UA head coach Mike Candrea said. "They were leaders in my mind because they lead by example, worked hard every day and they executed when it counted."

As in every previous year, dating back to 1986, the most important returner for Arizona is Candrea. He was the 1996 national coach of the year, and was subsequently voted to the Softball Hall of Fame last fall.

With all of the talent Candrea has assembled, it has left him with a bit of a conundrum, as it has become too much talent.

"What this team brings is experience and people who understand the fine line between winning and losing the big game," Candrea said. "This is a very athletic team and a very talented team, but not a team that can go on the field and people are going to ro ll over and die for them."

He has arguably the two best catchers in the nation in All-Americans Lety Pineda and Leah Braatz. Braatz, a two time All-American, redshirted in 1996 to give birth to her first child. She was well on her way to becoming one of the best power hitters ever at Arizona. Braatz is also one of the best defensive catchers in the game, with only four errors in 652 chances behind the plate. Pineda, who looks to play third base this season, was a surprise both behind the plate and at it. She hit .404 for the season with 16 home runs and 96 RBI.

In the outfield, Arizona has Olympic gold medalist Leah O'Brien, All-Americans Alison Johnsen and Brandi Shriver, All-Pac-10 player Andrea Doty, Academic All-American Julie Reitan and All-State freshman Chrissy Gil from California.

"I'm going to be showing a lot of different combinations out there in the next few weeks," Candrea said. "I think there are a lot of people on this team capable of playing at this level and playing well. A lot will depend on who is hot and who is not."

The infield will feature a combination of Michelle Churnock, Tiana Hejduk, Lisa Pitt, Nancy Evans, Pineda and freshman high school All-American Katie Swan. Pitt is a pitcher who can play either first base, second base or shortstop. Swan figures to replace Dalton at second base and Pineda should play third. Churnock started all 67 games last season at shortstop.

"I'm very pleased with both freshmen," Candrea said. "I think Chrissy Gil has developed quite nicely and I think Katie Swan is going to be a very good player. Both of them are going to get a chance to contribute on this team and I think they will do a ver y good job."

In the pitching circle the Wildcats will look to All-American Carrie Dolan, Pitt and Evans. Dolan set an Arizona single season record with 35 victories while maintaining an ERA of only 1.54. Evans, a two-time All-Pac-10 selection, is returning after redsh irting during the 1996 season due to a broken right-foot.

The Wildcats open the season today at 1 p.m. against Northwestern State in the Wildcats Invitational at Hillenbrand Stadium. They will also play tomorrow against Illinois-Chicago at 2 p.m., and will conclude the tournament on Sunday at 2 p.m. against Wash ington in a rematch of last year's NCAA championship game.