By Arlie Rahn
Arizona Daily Wildcat February 12, 1997

Arizona men focused on offensive rebounds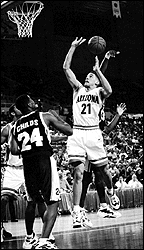 Nicholas Valenzuela
Arizona Daily Wildcat

UA junior forward Bennett Davison has the ball stolen away from him while going up for a basket against Tulane on Sunday. UA plans to concentrate more on their inside game for tomorrow's game against UCLA.


Both teams recorded over 20 offensive rebounds in their last meeting so its safe to assume that Thursday's, second UCLA-Arizona matchup could be determined on the backboards.

"Offensive board work is so vital to UCLA's strategy on offense. It sometimes seems that they purposely throw shots up just to get the rebound," UA head coach Lute Olson said.

In the last meeting UCLA penetration broke down Arizona's screening-out defensive scheme. The result was a lot of uncontested dunks for Jelani McCoy and Charles O'Bannon.

"Penetration has been a problem for us all year," UA junior forward Bennett Davison said. "I think that we have improved our defensive intensity and team defense."
---
UCLA coach Steve Lavin will have a new title when the Bruins square off with the Wildcats this Thursday.
Lavin had the interim status removed from his position when the UCLA administration gave him a four-year contract as head coach.
"I think I will be getting a little more sleep from now on," Lavin said. "I'll get to retire the Ny-Quil bottle."
After starting 2-2 overall, Lavine has led the Bruins to an 8-3 conference record and a share of the Pacific 10 lead.
"Hopefully it will settle down our program for the home-stretch," Lavin said. "I think it has shown that the university has confidence in my abilities. And for the first time in my 10 years as a coach, I feel a little sense of accomplishment."
Lavin was an assistant coach under Gene Keady at Purdue before becoming an assistant at UCLA four years ago under Jim Harrick.
Lavin became the interim coach as the season began after Harrick was fired for violating NCAA regualtions.
While Lavin is 32 years-old, other coaches feel that he will continue to uphold the prestige of the Pac-10.
"It's a nice opportunity for him. I think it's a well-deserved promotion based on what he's done so far this season," Olson said. "The expectations are very high at UCLA. It's a lot for a coach to come into mid-season."
---
While Miles Simon fell short in the voting for Monday's ESPY Awards, he still earned a share of this week's Pac-10 player of the week honor.
The junior guard split the award with Southern Cal senior guard Stais Boseman.
Simon averaged 26 points, 5.5 rebounds, eight assists and three steals in two Wildcat wins. He scored 22 points, collected nine rebounds, added six assists and had five steals in Arizona's 87-71 win over Arizona State. In an 81-62 victory over No. 21 Tulane, Simon set two career-highs with 30 points and 10 assists.
For the week, Simon shot 6 of 11 from three-point range and 10 of 13 from the free-throw line.