By Sam Spiller
Arizona Daily Wildcat February 12, 1997

Softball No. 1 and improving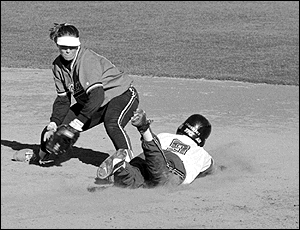 Brian D. Rothschild
Arizona Daily Wildcat

UA sophomore Lisa Pitt tags a Husky runner at second base during the Arizona-Washington game on Sunday. Arizona is ranked No. 1 in the country.


The top-ranked Arizona softball team defeated No. 3 Washington in a rematch of last year's NCAA Championship game on Sunday. Even though they will play the Huskies four more times this season, the Wildcats understood that a victory was the only acceptable outcome.

"The Washington team is great. It was a good test for us to play them," UA pitcher Carrie Dolan said. "If we lose, we get in trouble. I don't think there is one person on this team who would settle for losing."

Losing is not a common occurrence for the Wildcats. In fact, they have lost only 33 times in 295 games since 1992.

"It's bone-crushing," Dolan said. "We are used to winning, and the coach's attitude is so strong. It's like you might as well not come out to play if you are not going to win. I think that's how we established such a winning record here."
---
Senior Andrea Doty, a second team All-Pac-10 player, did not play in the Wildcat Invitational last weekend due to questions about her academic eligibility.
Head coach Mike Candrea could not comment on the specifics, but was confident about the team's ability to play without Doty.
"Andrea may be missing us," Candrea said. "This is a team that is very, very talented. I hope for the best for her by all means, and hopefully something will come out soon about her status."
Doty played in all 67 games last season, starting most of those in right field.
---
Lety Pineda has made a seemingly smooth transition from catcher to third base. Pineda was a first team All-American behind the plate last season, replacing Leah Braatz who red-shirted to have a child. With Braatz's return this season there were questions as to where Pineda would fit in.
"I think Lety has a great bat and we need to find a place for her," Candrea said. "She and Leah bring a lot to the plate.
"Braatz is a little more vocal and has a little more leadership. I think Lety is a good enough athlete and she's worked really hard to drop some weight and become a little quicker and I think she's done a really nice job."
---
The starting line-up continues to be in a constant state of flux.
Candrea has kept Alison Johnson, Julie Reitan and Brandi Shriver in the outfield, but the infield is constantly changing.
Sophomores Lisa Pitt and Michelle Churnock played shortstop and second base, respectively, against the Huskies. In the previous games he used freshman Katie Swan and senior Nancy Evans in those positions.
"I was pleased with Churnock. She looked very well compared to last year at this time," Candrea said.