Associated Press
Arizona Daily Wildcat February 20, 1998

Wildcats escape Corvallis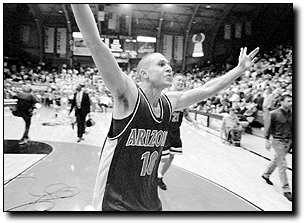 Associated Press
Arizona Daily Wildcat
Arizona guard Mike Bibby celebrates after Arizona's last-second 71-70 victory over Oregon State yesterday in Corvallis, Ore. Miles Simon rebounded a missed free throw and ran down the court for a jump shot at the buzzer to give Arizona the win.

CORVALLIS, Ore. (AP) - Miles Simon rebounded a missed free throw and ran down the court for a jump shot at the buzzer to lift No. 3 Arizona to a 71-70 win over upset-minded Oregon State last night.
Oregon State appeared to have the game won when Nick Greene sank two free throws for a 70-69 lead with 30.7 seconds left.
On the next possession, Simon fell down and was called for traveling with 6.6 seconds left. Oregon State's Todd Marshall was fouled after the inbounds pass with six seconds to go, but missed both of his free throws.
Simon tipped the ball to himself, raced down the court and flung the ball up just inside the foul line. The ball rolled into the hoop as time expired.
The win was the 16th straight for the Wildcats (23-3, 13-0 Pac-10), who also won their 17th straight against the Beavers (12-14, 2-12).
Oregon State was playing without its top scorer, sophomore Corey Benjamin, who sat out with an abdominal injury. But the Beavers hung tough with the defending national champions, outhustling the Wildcats and keeping the game close most of the second half.
The game came down to the foul line in the final minutes, and Oregon State, the worst free-throw shooting team in the Pac-10 Conference, couldn't match up.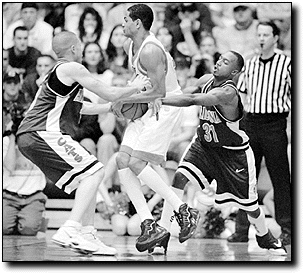 Associated Press
Arizona Daily Wildcat
Arizona's Mike Bibby, left, and teammate Jason Terry attempt to steal the ball from Oregon State's John-Blair Bickerstaff, center, during their game last night in Corvallis Ore.
OSU's Deaundra Tanner, who had a career-high 20 points, tied the game at 65-all by making one of two free throws with 2:50 left. Simon missed a wild shot at the other end, and Tanner was fouled.
Tanner's free throws put Oregon State ahead 67-65 with 2:18 left.
Simon missed a 3-pointer, but got it back and dished to Mike Bibby, who sank a 3 to make it 68-67 Wildcats with 1:14 left.
Marshall was fouled by Michael Dickerson away from the ball with 32.6 seconds left, and Marshall hit one of two free throws to tie it 68-68.
Simon finished with 12 points on 4-for-13 shooting.
No. 3 Arizona vs. Oregon
(23-3, 13-0 Pac-10) (12-11, 7-7)
When: Tomorrow at 2:30 p.m.
Where: MacArthur Court, Eugene, Ore.
TV/Radio: The game will be televised by ABC and broadcast live by KNST (AM 790)
What: The Wildcats are coming off a 71-70 win over Oregon State last night - Arizona lost to Oregon 78-72 last season in Eugene- The Wildcats have won the last 13 of 14 games against the Ducks