By Seth Doria
Arizona Daily Wildcat February 20, 1998

Women almost give one away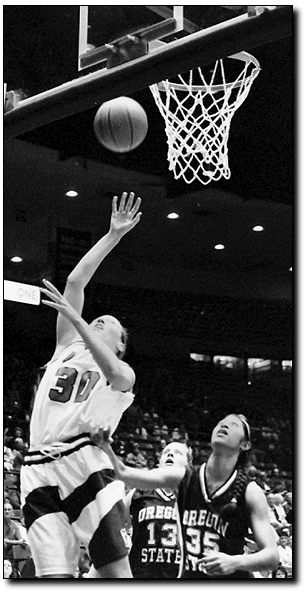 Matt Heistand
Arizona Daily Wildcat

UA senior forward Adia Barnes(30) drives past Oregon State defenders for a layup yesterday night. The Wildcats won last night 75-74.


The old adage goes that sometimes it is better to be lucky than good.

Well, UA's women's basketball wasn't good, but with a little luck, they still managed a 75-74 victory over Oregon State in front of 2,962 fans at McKale Center.

The win offset a career night for OSU guard Monica Watts, who scored 35 points and grabbed 12 rebounds.

The Wildcats (17-5, 10-3 Pacific 10 Conference) were down 74-73 when UA head coach Joan Bonvicini called a timeout with nine seconds left.

She diagrammed a play that required screens from Adia Barnes and Shontey Hambrick to free up guard Felecity Willis for the last shot.

As it turned out, mass confusion reigned and neither screen was set, but Willis managed to get off a running jumper, which she missed.

But Barnes, a senior, found herself open for the weak-side rebound, hit the layup and got fouled with 1.8 seconds left.

She missed the free throw, one of 13 missed free throws for the Wildcats, but time expired as both teams scrambled for the rebound.

"God works in strange ways," Bonvicini said. "I'm just happy we won."

Barnes finished with 30 points, but also committed seven turnovers.

"That's unacceptable," Barnes said of the turnovers. "We really half to pick it up. This was way too close for comfort."

Watts kept the Beavers (6-17, 1-13) in the game early, scoring 17 of OSU's 29 points as Arizona took a 36-29 halftime lead.

But as has been customary for the Wildcats, they couldn't hold on, eventually losing the lead on Watts' three-pointer with 4:52 left in the game to give the Beavers a 63-61 lead.

"We've got to stop letting teams hang around," Willis said. "We were playing to their level."

But after taking a 69-63 lead, Barnes stepped up, scoring nine of Arizona's final 11 points, including the game winner.

The win keeps Arizona within reach of the conference title, setting up the showdown with Oregon tomorrow night.

Coming off a close victory over Arizona State last night, Oregon (15-7, 11-3) stands in second place while the Wildcats are in a tie with UCLA for third in the conference.

The Wildcats will be out for revenge, trying to atone for a 68-66 loss at Oregon last month.

But UA will most likely have to go without center Marte Alexander, who hurt her right knee late in the second half last night as she went up for a shot.

"We know they'll give us a good run," Bonvicini said, "but we want a chance to redeem ourselves."