By Michael Isaac Jacobs
Arizona Daily Wildcat February 24, 1998

UA campaign angers Tucson ad agencies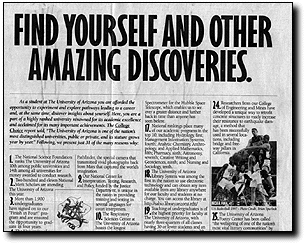 Wildcat File Photo
Arizona Daily Wildcat

This advertisement which appeared Dec. 14 in the metro section of The Arizona Republic is one of many that the UA Foundation purchased to increase enrollment. Questions have been raised about the foundation's methods of advertising agency selection.


Tucson advertising firms say the UA Foundation ignored local businesses and probably spent too much money when it chose a Phoenix-area company to develop the university's "Amazing Discoveries" ad campaign.

University of Arizona Provost Paul Sypherd launched the campaign in September through a Scottsdale-based firm - Lavidge, Hegel and Bomayr - in conjunction with a board comprised of administrators and constituents of the UA Foundation.

The slogan "Find Yourself and Other Amazing Discoveries" has appeared on billboards statewide as well as in almost-full-page-sized advertisements in The Arizona Republic and The Arizona Daily Star. More recently, "Mars as seen without the use of our telescope" has appeared on billboards alongside a blank television and a UA logo.

The UA Foundation footed the entire cost of both the newspaper and billboard ads with unrestricted private funds, which are donated and used without external restrictions.

"The foundation board of directors and the presidential cabinet believed that there was a lot to brag about, and a lot of neat stuff that people didn't know about," Sypherd said.

Most Tucson advertising agencies, such as Hilton and Meyers Advertising, agree with Sypherd's sentiments to promote the university.

"UA has many departments that they should be proud of," said Doug Meyers, a UA graduate and president and co-creative designer for the firm.

But Meyers, whose staff consists of six UA graduates, said he is confused about the university's advertising agency hiring tactics.

"It angered me a lot that a Phoenix-based company undertook the campaign. I am an alumnus, and graduated myself with a marketing degree," Meyers said. "I think that it was an insult and it was discouraging.

"If they had at least asked us to participate in the process, then we wouldn't have minded. Not being asked was really a snub to local agencies," he added.

Meyers, who has contact with many Tucson ad companies, said the UA Foundation did not contact his firm or any other firm in the community.

Sypherd, who spearheaded the campaign from the outset, deferred questions about the firm's selection to the private UA Foundation board.

"This is an information campaign and is being funded by the UA Foundation, which is a separate corporate entity and are primarily our fund-raisers," Sypherd said. "The UA Foundation is not bound by the normal rules and can pick whoever they feel will get the job done."

According to an Arizona procurement code, if a state contract is in excess of $25,000, it must be put out to bid, said Corinne Splitt, director of UA Procurement and Contracting Services.

"There is not a single copy of any advertisement contract in association with billboards or newspapers in the procurement office," said Irma Alvarado-Sipp, an associate administrator in the office.

But since the UA Foundation's private money supported the campaign, state procurement laws do not apply.

Gladis Sarlat, a public relations consultant and developmental committee member at Northenson Communications, said she was shocked that Tucson agencies were not considered to design university advertisements.

"I was very surprised to find that they went to Phoenix when we have very capable agencies right here in Tucson. Many of these agencies are doing advertising nationally and internationally," Sarlat said. "Frankly, when it comes to that campaign, I believe that many Tucson agencies would have done the job for free and done the job better."

Sypherd said he is aware of the growing resentment toward the university because he has received numerous letters from agencies throughout Tucson.

"A consultant interviewed agencies in Tucson and Phoenix and based on the presentations made the agency in Scottsdale was selected," Sypherd said. "I'm sorry that they feel they were snubbed, because I thought that the people involved in the process contacted a number of them."

Sharon Kha, assistant to UA President Peter Likins, said, "To my colleagues in Tucson, I believe that there is outstanding talent, but UA is more of a state university and we have a large alumni base in Phoenix."

Dana Weir, a UA Foundation spokeswoman, would not say how much was spent on the ads or comment on the selection process undertaken by the foundation's board, citing the organization's private status.

Although Sypherd remained vague, he said the university spent "tens of thousands" of dollars on the campaign.

UA students said they believe the billboards have little effect.

"Those billboards probably wouldn't be effective in drawing students to the university if you're not interested in astronomy," said Vanessa Vizcarra, an astronomy sophomore.

Ian West, a senior studying English and creative writing, said, "I wouldn't go to a university based on this ad, because I wouldn't go to any university based on an ad."

"The criticism has been that the amount of billboards has been sparse," Sypherd said. "The key word, though, is 'discovery.'"

"The word 'discovery' captures what the university is all about," Kha said.