By David J. Cieslak
Arizona Daily Wildcat February 24, 1998

Residence Life: No banners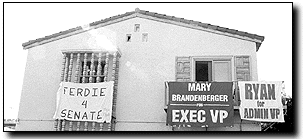 Matt Heistand
Arizona Daily Wildcat
Pi Beta Phi displays banners for ASUA candidates. This year Residence Life outlawed the hanging of banners on dorms, but allows campagin banners to be posted on Greek houses.
As ASUA elections shift into high gear, UA students are being bombarded with campaign material - including an abundance of oversized banners hanging from various locations around campus.
But this year, University of Arizona's Department of Residence Life banned hanging campaign materials from its buildings' exterior windows, a move Associated Students officials and candidates deem detrimental to ASUA campaigning.
"I really think that if folks use the interior space, they will be able to achieve as much inside as they would outside," said Patrick Call, Residence Life's associate director, who advocated the policy change. Call said the policy, which was revised at the beginning of the month, has been changed to protect residents. He recalled a past election when rocks attached to a candidate's banner smashed through a residence hall window.
"This policy is safety oriented, and that is my utmost responsibility to the candidates," Call said.
Administrative vice-presidential candidate Michael Benveniste, a political science junior, said the new policy is doing more harm than good.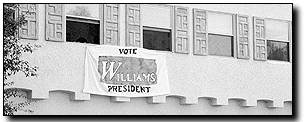 Matt Heistand
Arizona Daily Wildcat
Pi Beta Phi displays banners for ASUA candidates.
"It takes away from candidates allowing themselves to be visible," Benveniste said.
Passers-by can still find many banners displayed outside fraternity and sorority houses.
"In an indirect way, it's saying that Greek houses matter more," said presidential candidate Tara Taylor, who wants Residence Life to re-evaluate its policy so students living in residence halls do not get the wrong impression of ASUA.
"I think it's pertinent for Residence Life to take an active role in elections," said Taylor, a political science and public management junior.
ASUA President Gilbert Davidson said Residence Life could have attempted to compromise with candidates before changing the policy.
"The policy is hurting their own students," Davidson said. "It gives the perception that this is a Greek election because there's nothing on the residence halls."
According to a 1996 ASUA general election report, about 1,000 voters - nearly one-third of all students who cast ballots - lived in residence halls.